Published on:
07:29AM May 21, 2013
For the third straight year, farmland prices in the Tenth Federal Reserve District have increased by double digits year over year, a record for this survey. Farmer income also remained elevated, but bankers are concerned going forward as low crop prices and higher input costs may curb farmer income. 
Year over year cropland values increased 20% in the first quarter of 2013. Although values continue to move upward, the pace of that increase has slowed down. Non-irrigated farmland rose 3.4% over the first quarter of 2013 compared to a 7.7% increase in 2012. Irrigated farmland rose 2.9% versus a 9.0% gain in 2012. The slight slowdown in the quarterly value can be attributed to a deceleration of farmer income. 
Income remained elevated for farmers in the first quarter of 2013, but the growth was limited due to declining crop prices and increased prices for inputs. Input, especially seed and fertilizer, expenses increased as planting season approached. Crop prices were held in check due to higher than expected inventories reported toward the end of the quarter.
Although farmer income remains stable, one out of three bankers indicated that a large share of their clients had debt-to-asset ratios above 40%. They noted that the rising value of land and production costs was increasing young and beginning farmers' debt responsibility. 
Demand for operating loans decreased as farmers used revenue from crop sales and insurance payments to pay for inputs such as seed and fertilizer. As lenders compete for borrowers, interest rates continue to drop for short-term operating loans, intermediate-term machinery loans, and long-term farm real estate loans.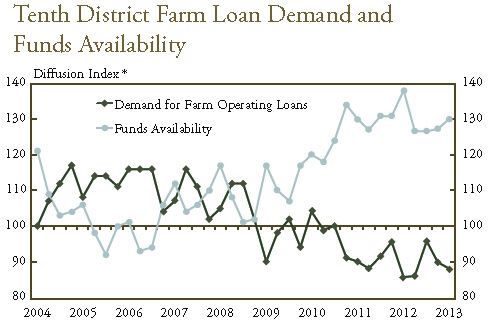 Bankers commented that credit conditions are stable as farmers paid down debt. Bankers also noted that loan repayments in the first quarter of 2013 were not as strong as last year. Farmers took advantage of tax incentives in the fourth quarter of 2012 which resulted in a surge of capital spending. The spending continued into 2013 as the tax incentives were extended.
Survey
A total of 223 banks responded to the First-Quarter Survey of Agricultural Credit Conditions in the Tenth Federal Reserve District, an area that includes Colorado, Kansas, Nebraska, Oklahoma, Wyoming, the northern half of New Mexico, and the western third of Missouri.