Published on:
09:04AM Jul 24, 2012
The Rural Mainstreet Index (RMI) decreased to its lowest level in two years, to below growth neutral, as severe drought conditions continue to have an adverse effect on the rural economy . The farmland price index declined this month to its lowest level since September of 2010, but remained above growth neutral for the 30th consecutive month.
The Rural Mainstreet Index decreased to 47.9 from  56.7 in July to its lowest level since September of 2010. This month's data broke a ten month streak of being above growth neutral.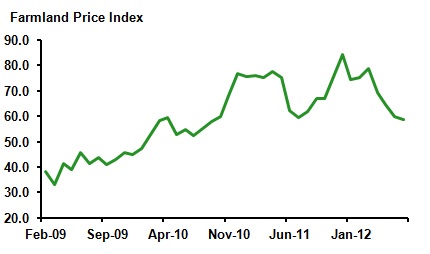 According to Creighton University economist Ernie Goss, "The drought is putting a dent into the economies of the agriculturally dependent areas of the 10-state area. Just as the region has benefited mightily from very healthy farm income over the past few years, we are now detecting warning signals of a significant economic reversal for rural areas." 
Although the farmland price index decreased, it remains above growth neutral, posting a 58.6 from a 60.0 in June. This marks the 30th consecutive month the index has been above growth neutral. The farm equipment sales index decreased significantly to 46.1 from June's 54.7, its lowest level since 2009.
"Much weaker economic conditions are slowing growth in farmland prices. Furthermore, farmers are clearly reducing their purchases of agriculture equipment. This pullback will soon affect urban areas of the region," said Goss.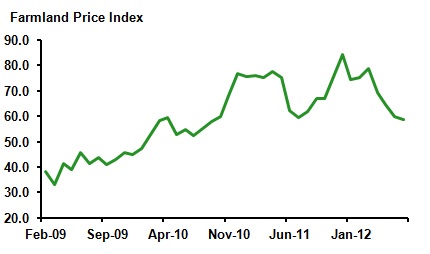 Bankers were asked this month how the drought has impacted ethanol and biodiesel production. Of bankers with plants in their area, 64.3% reported negative impacts, 21.4% indicated plant closures and 42.9% reported cutbacks in operations. "The lack of available crops and higher prices for corn and soybean are having significant and negative impacts on ethanol and biodiesel producers in the area," said Goss.   
For the fifth consecutive month the loan volume index has increased to a 65.3 from 64.2 a month prior. Bankers were asked how the drought has affected borrowing, and approximately 29% reported an increase in borrowing. The check deposit index decreased to 47.9 from 55.3 in June and the certificate of deposit and savings instruments increased slightly to 41.7 from 38.9 in June.
July's hiring index decreased to 52.8 compared to 59.1 in May. "Even though we tracked hiring growth for the month, the index was down for June. I expect hiring to drift lower with job losses in the months ahead as the impacts of the drought spread," said Goss.
The economic confidence index decreased to 40.9 from June's 58.5. "This is the largest one month decline that we have recorded since we began this monthly survey in December 2005. The drought has turned economic optimism into economic pessimism," said Goss.
This survey represents an early snapshot of the economy of rural, agriculturally and energy-dependent portions of the nation. The RMI is a unique index covering 10 regional states, focusing on approximately 200 rural communities with an average population of 1,300. It gives the most current real-time analysis of the rural economy.
For daily articles on farmland and agriculture, visit www.farmlandforecast.com