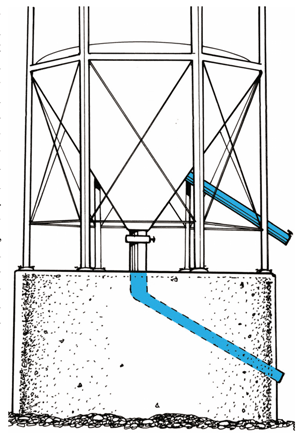 Slides Simplify Bulk Bin
In order to get minerals out of a bulk bin without an auger, I cut an angled opening in the side of the bin toward the bottom and inserted a 4" plate pipe. This simple alteration makes it significantly easier to get the minerals out of the bin and into the mixer. When I need to completely empty the bin, the remaining mineral runs through a 6" pipe funneling out of the bottom of the bin and through the concrete pad the bin sits on.
Mark Miller, Boswell, Pa.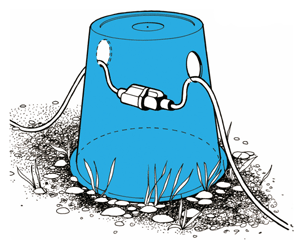 Pressure Washer Safety
When using an extension cord for my pressure washer, I keep the connection dry with the help of a plastic bucket. Using a circle hole bit, I made two holes across from each other near the bottom of a bucket. The holes are big enough so that the ends of the cords will fit through them. When setting up to use the pressure washer, thread the cords through the holes and connect them inside the bucket. Then, turn the bucket upside down. The cords will stay off the wet ground, as well as be protected from water.
Edward Cully,Van Wert, Ohio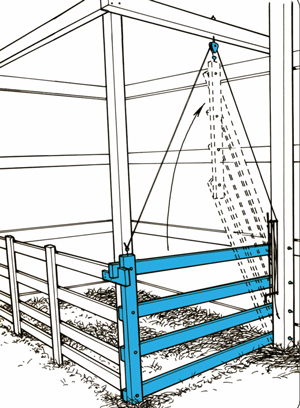 Swinging Space-Saver
Space is limited in my barn, so I devised a gate that swings up instead of out. The gate is assembled like a typical gate except for a few minor changes. To secure the horizontal boards to the vertical boards on the ends, drill a hole through the boards and insert a carriage bolt with a nut. Leave the bolts semi-loose so they can pivot. Secure the vertical post on one end of the gate to serve as the pivot point. On the other end, attach a rope with a hook and eye bolt on the top of the vertical board, thread the rope through an overhead pulley and fasten the other end of the rope on the stationary end of the gate. Pull on the rope, and the gate lifts diagonally.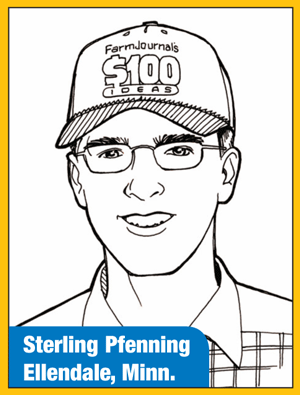 This swinging gate took Sterling Pfenning an hour and a half to build and has been operating since February 2008. He uses this space-saving mechanism on a pen for goats and sheep. Pfenning farms and sells vegetables at the local farmers market with his parents and siblings in southeastern Minnesota.


 
---
The Double Your Money winner receives $200. Other farmers featured receive $100 each. Share your unpublished ideas and join our $100 Ideas Club. Upon publication, you'll receive a hat and check. Send a description of your idea and a photo or sketch to: $100 Ideas, Farm Journal, P.O. Box 13018, Des Moines, IA 50310-0018, or e-mail $100-ideas@farmjournal.com. Include your address and phone number. All material published becomes the property of Farm Journal Media.