The Top of Utility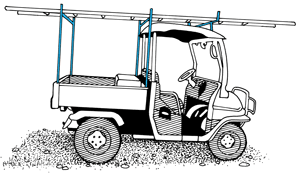 I use my utility vehicle more than anything else around the farm. However, the bed is too small for hauling certain items. To transport gates and catch panels, I built a ladder rack for the top of the vehicle. Made of 1" square tubing, two upright extensions slide into the existing openings on the bed. A third extension is attached to the top of the cab. As long as the rack is empty, I can still use the dump bed without removing the uprights.

Mike Watson
Bunker Hill, Tenn.
---
One-Man Bale Trailer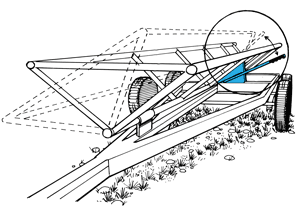 The ability to haul multiple bales at one time is handy, but once I unloaded the hay, I couldn't get the rack back in the upright position by myself. To make this a one-person job, I welded an 18"x1¼" pipe to the middle section of the trailer. For leverage, I cut a 30"x1" rod that fits inside the pipe. The handle is out of the way for transport but is at hand when I need to position the rack by myself.

Kenneth Patterson
Ennis, Texas
---
Large Equipment Oil Catch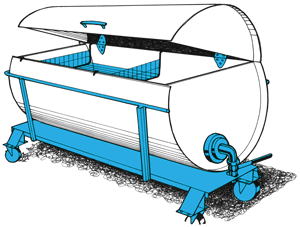 Big equipment requires lots of oil—and my mobile oil drain pan can handle the volume. Made from a 30-gal. plastic drum, the hinged top has a handle for easy open and close, and there is a suspended funnel and filter drain across the barrel. The drum is attached to a metal frame with casters. The frame is sized to fit a fork lift attachment to raise and empty the drum through the valve attached at the original drum opening. It's easy to roll the oil pan around the shop, and when it's time to empty it, the fork lift makes it easy to transport to the waste oil location.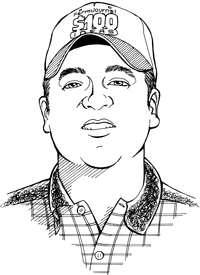 For $30 and scrap metal, Terry Brubaker made a mobile oil drain for large equipment. Brubaker grows corn and soybeans with his father, Mike, on MT Farms in western Ohio.

 
---
The Double Your Money winner receives $200. Other farmers featured receive $100 each. Share your unpublished ideas and join our $100 Ideas Club. Upon publication, you'll receive a hat and check. Send a description of your idea and a photo or sketch to: $100 Ideas, Farm Journal, P.O. Box 13018, Des Moines, IA 50310-0018, or e-mail [email protected]. Include your address and phone number. All material published becomes the property of Farm Journal Media.