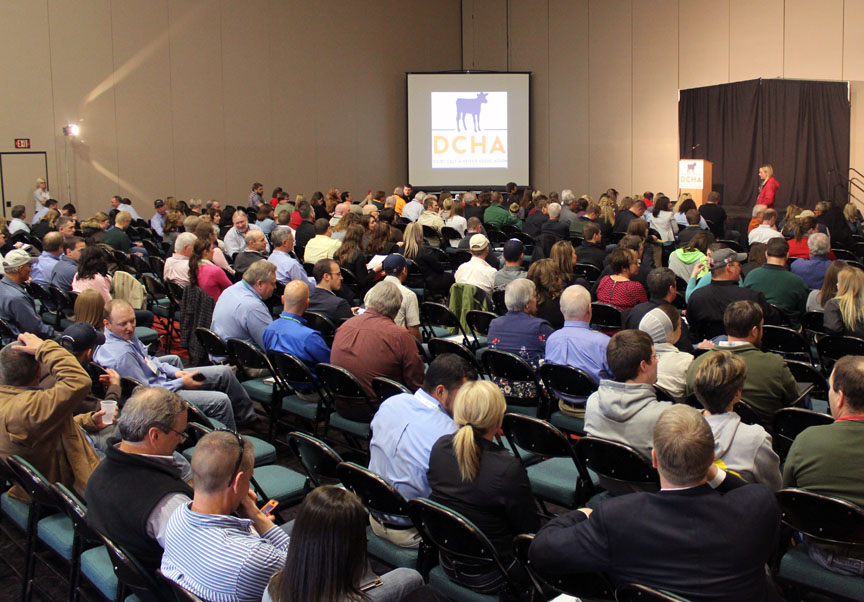 Calf and heifer raisers share top motivations for attending the annual conference March 31-April 1 in Madison, Wis.
Source: Dairy Calf and Heifer Association
Raising healthy calves and heifers takes skill. The best in the business wear several hats -- from financial strategists and market forecasters to animal caregivers and employee managers. Many of these industry leaders have worked together to plan the Dairy Calf and Heifer Association (DCHA) Annual Conference set for March 31-April 1 in Madison, Wis.
Vickie Franken, owner of City View Farms in Sutherland, Iowa, is one such calf and heifer raiser. She says the DCHA conference is a fixture on her calendar each year because the conference is planned by producers, for producers.
"The conference is planned by dairy calf and heifer raisers from across the country," she says. "When we put together the agenda for this year's conference, we looked at issues we face in our own facilities and brainstormed sessions and tours that we feel will best help others who raise calves."
Here are 10 of the top reasons the DCHA Board of Directors encourages you to attend the upcoming conference:
10. Get your hands dirty. During a pre-conference tour, producers will visit the Wisconsin Veterinary Diagnostic Lab for hands-on demonstrations on calf respiratory scoring, calf ultrasound and pharyngeal swabbing.
9. Empower your employees. Whether it's your family or hired employees that are caring for calves, keeping the team motivated is essential. The calf care team manager from Calf Source, LLC, and employee empowerment experts will share tips during informational sessions.
8. Think beyond heifers. With cattle prices at record highs, the dairy industry can be more than calves and heifers. In a dairy beef educational track, learn how to start steers successfully, increase feed efficiency and predict dairy beef market trends. 
7. Watch your wallet. When should you buy and sell heifers? How can you set your price to promote profit? What factors should you consider before a build out? Learn financial planning tips from a roundtable of agriculture financial planners.
6. Prepare for your close-up. Cameras and cattle are becoming a common combination. By inviting media and urbanites to our facilities, we can play a role in educating consumers. Hear from a dairyman who invited a camera crew and nationwide audience onto his facility during a stint with the reality TV show, Undercover Boss.  
5. Keep it fresh. The calf's habitat can impact her early health and long-term growth. In a session with Dr. Ken Nordlund, tips will be offered for all-in, all-out group management, bedding sources, nesting scores and ventilation systems.
4. Experience new innovations. The tools available to raise calves continue to evolve, with more technology and innovation available than ever before. Visit with representatives from industry-leading companies about their newest technologies during the conference's tradeshow.
3. Make global connections. From California to New York and from England to Mexico, calf raising strategies are varied, offering opportunities to learn from one another. Network with calf raisers from across the globe during breaks and hear from leading producers during roundtables. 
2. Get the inside scoop. Farm tours are a highlight of this year's conference. During two diverse facility tours, hear from managers on their experiences with: automated calf feeders, radio frequency identification (RFID) technology, ventilation tubes, all-in, all-out calf facilities and sand and manure separation systems.
1. Connect with the best. The variety of topics presented during this two-day conference is designed to equip attendees with tools for economic success and empower industry connections. Connect with the best new strategies, innovative technologies and tools for raising calves during the Dairy Calf and Heifer Association Annual Conference March 31-April 1 in Madison, Wis.
Register today to attend the 2015 DCHA Conference by visiting www.calfandheifer.org/conference or calling 855-400-DCHA (3242). Sponsorship opportunities are also available for this can't miss event.
The Dairy Calf and Heifer Association was founded in 1996 based on the mission to help dairy producers, calf managers and those professionally focused on the growth and management of dairy calves and heifers. With a national membership of producers, allied industries and research leaders, DCHA seeks to provide the industry's standards for profitability, performance and leadership, serving as a catalyst to help members improve the vitality and viability of their individual efforts and that of their business.