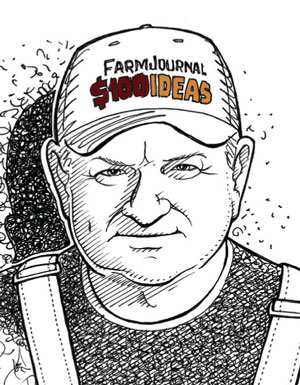 J.D. Corwine
Quenemo, Kan.
$200 Double Your Money Winner!
A $98 skid-steer plate from a dealer, scrap metal from around the shop and four hours of time yielded a handy skid-steer hitch. J.D. Corwine farms with his two sons, Matt and Mitch, who are frequently moving tender trailers for their seed business. The father and sons trio raise corn, soybeans, wheat, alfalfa and cattle. As Corwine transitions into retirement, his sons are taking over the reins. 
Skid Steer on the Move
To move seed tenders, gooseneck trailers and equipment without having to use a tractor, we built an attachment for our skid steer. The hitch plate includes square tubing to store various types of hitches, balls and pins. We welded two hooks on the hitch plate to store a log chain. Now, it's so much easier to maneuver seed tenders and trailers in the storage shed, in the shop or around the farm. 
---
Two-Sided Electric Fence
Our barbed wire fence was taking a beating when we had cattle on both sides. We wanted to string electric fence down either side to keep the cattle off the barbed wire, but the ground was too frozen to set posts. Instead, I wrapped a small electric fence post around the wooden posts, hammered in a staple to secure the small post then slipped on insulators to string a hot wire away from the barbed fence.
Lucas Jungemann
Wolsey, S.D.
---
Ladder Rack for Utility Vehicle
High winds in West Texas mean we have to replace drop hoses on our pivot systems quite often. A ladder is a must for the job, but getting it to the field can be a challenge. Using scrap square tubing from old row markers, we created a ladder rack for our utility vehicle. The rack attaches via hitches on both the back and front bumper. The back trailer hitch uses 2" tubing and the front hitch uses 1½" tubing. In the bottom corner on the back rack, we welded a  crossbar for extra support.
Daniel Coleman
Anton, Texas
---
How to Enter
Submit your unpublished idea with a description, photo or sketch, address and phone number.
What You Win
All winners receive a hat and check and are featured in Farm Journal and on AgWeb. 
The Double Your Money winner receives $200 and a coupon for up to $5,000 on new equipment built New Holland Smart. Their winning idea is also featured on "AgDay" television and "AgriTalk" radio.
All other winners receive $100.