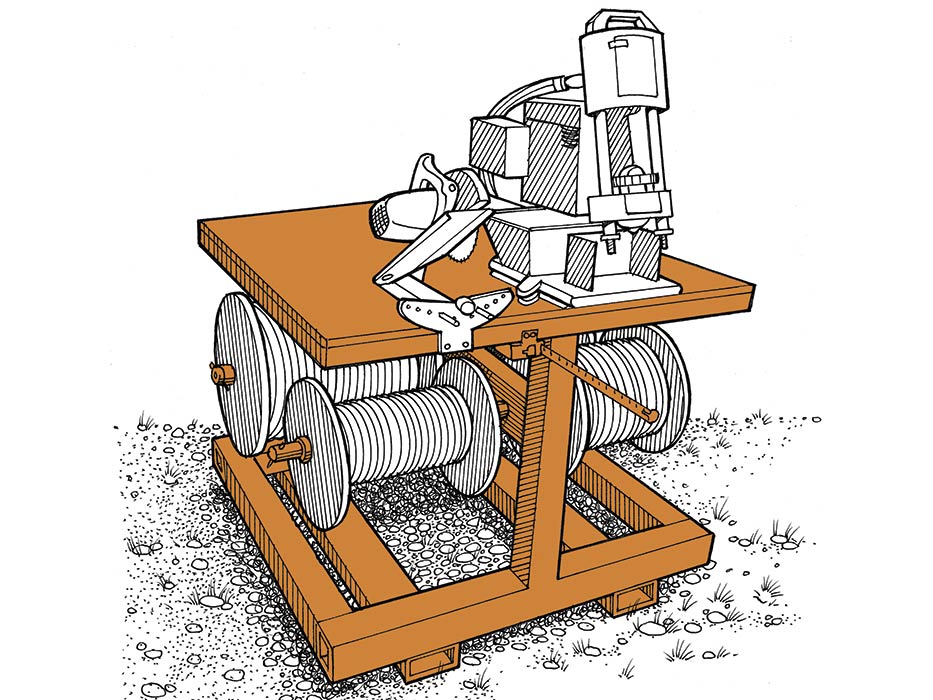 $200 Double Your Money Winner: Portable Hydraulic Hose Station
For less than $200 and 20 hours of effort, I built a hydraulic hose station on a skid loader platform. The frame, which is built from scrap angle iron, supports four hose reels in sizes: ¾", ½", 3/8" and ¼". I attached a circular saw and crimper to the 4'x4' ¾" plywood table top, and there's room for my toolboxes. A measuring tape is mounted under the top for easy access. I use a skid loader to move the station where it's needed.
Brent raises corn and soybeans with his uncle, Aldean Luthi.
Brent Schaefer
Hancock, Minn.
---
Keep Calves From Getting Caught In the Bale Ring

© Illustrations: Bob Cunningham
My husband, Larry, always had trouble with small calves getting caught in the hay bale ring, so he took some old hay baler belts and wove them around the bottom of the bale ring. The problem was easily solved. He wished he had thought of the idea years ago.
Betty VanLeeuwen
St. Paul, Kan.
---
Battery-Operated Corn Sheller
© Illustrations: Bob Cunningham
I like to hand shell several ears of corn to see how the varieties are doing. I made a corn sheller attachment for my cordless drill using a section of 1½" PVC pipe, a cap, a reducer, bolts and lock nuts. First, I glued the reducer to the pipe, drilled three holes through the wide sides of the reducer and mounted ¼" bolts with lock nuts through the holes. Next, I drilled a hole through the cap, inserted a bolt with the threaded end out and glued the cap to the other end of the pipe. The drill grips the cap bolt like a bit to spin the sheller.
Jason Meyer
Yale, Iowa
---
Share your unpublished ideas to join our $100 Ideas Club. The Double Your Money winner receives $200. Other farmers featured receive $100 each. All winners receive a hat. To submit your unpublished idea, which must include a description, photo or sketch, address and phone number, write to $100 Ideas, Farm Journal, P.O. Box 1188, Johnston, IA 50131-9421, email [email protected] or fill out the entry form at www.farmjournal.com/enter_100_ideas. All published material becomes Farm Journal Media property.