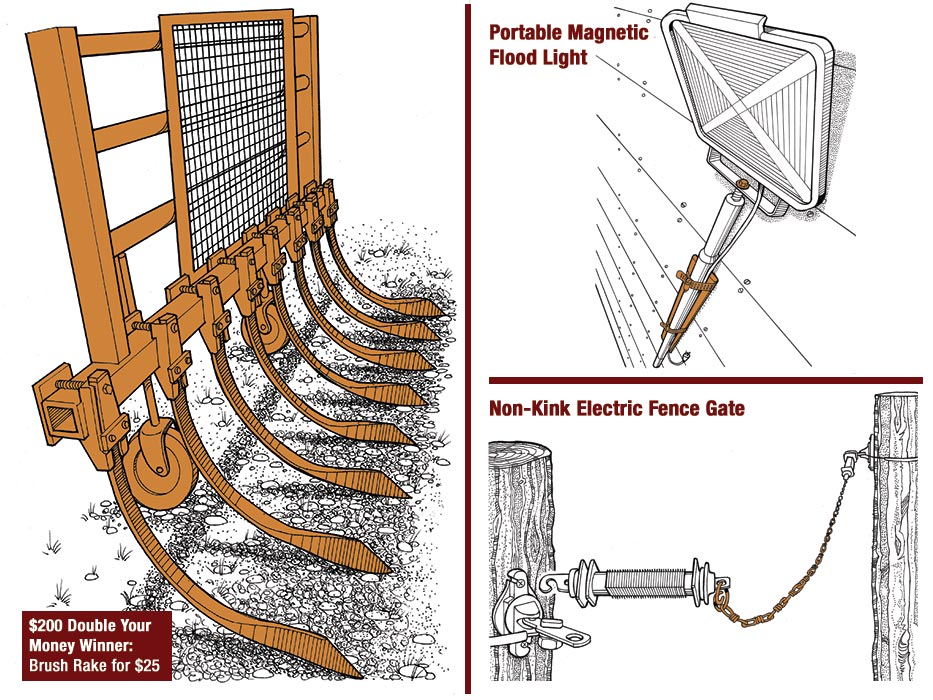 $200 Double Your Money Winner: Brush Rake for $25
After the bulldozer clears out the fence rows, I use our brush rake to filter out the dirt leaving the brush to be burned. The rake took a day and a half to build with scrap materials and $25 in welding rods. The rigid shanks came from a cultivator. Other materials include a 4x4 hollow toolbar, screen from a gravel plant cleaner, 2"x4" tubing for the mast, 2⅜" oil field pipe and parking stands from a five-row front mounted bedder. The quick-attach brackets were made from scrap materials too. I drop the bucket on my tractor and attach the rake.
Edward has been farming since the 1960s and raises cotton, corn, wheat, milo and a few cattle with his son, Terry.
Edward Coufal
Temple, Texas
---
Portable Magnetic Flood Light
I needed a light near my grain bin to see in the trailers, so I bought a 110-volt, 3500 Lumen LED flood light and attached a telescoping paint roller handle with one ⅜" bolt. Using two hose clamps, I stuck a 24" tool magnet to the fiberglass on the handle where it doesn't interfere with the telescoping. The magnet lets me put the floodlight on the grain bin high enough to shine in the trailer.
Rob Hellbaum
Chugwater, Wyo.
---
Non-Kink Electric Fence Gate
I made an electric fence gate from lightweight chain cut to the desired length. At each end, I added a ⅛"x¾" repair link to attach the plastic handles. I can lay the gate on the ground, then drive or walk over it. It will not kink, roll up, wrap around my leg or stretch. We use these gates on all our electric fences, and they're especially handy for rotational grazing.
Keith Blinson
Lenoir, N.C.