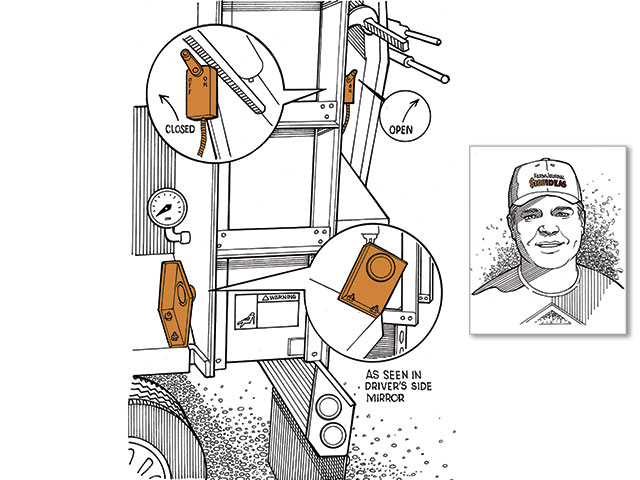 $200 Double Your Money Winner: A Light to Know the Tailgate is Shut
When hauling corn silage at night, it was hard to see if the tailgate was shut on my live-bottom trailer. I bought a lever switch at www.automationdirect.com, installed it by the tailgate and wired it to a light on the driver's side, which I can see from my side mirror. When the gate is up, the light turns on; if it's down, the light shuts off. It cost $50 and took two hours to install. Brent raises corn and soybeans with his uncle.
Brent Schaefer
Hancock, Minn.
---
A Big Funnel Does the Trick

© Illustrations: Bob Cunningham
To alleviate the hassle of disposing of oil, we made a drain pan that fits on top of the waste tote. First, we pressed an X in the middle of sheet metal the same size as the tote. We then welded 3" sides to the sheet metal. At the center of the X, we welded a 2" pipe on the bottom of the pan for the drain. We used 1"x1" angle iron to make the inside rack that supports the expanded metal. To secure the pan, we welded small feet that fit snug on the metal crate.
Donavon Toews
Park River, N.D.
---
Save the Hitch Pins

© Illustrations: Bob Cunningham
Since losing a piece of equipment when the hitch pin wiggled out, we have been using what we call our hitch pin saver. We cut a 1' square piece of a 1/8" plastic barrel with a hole about 3½"x1½" to fit our drawbar. I made one for each tractor because whether we're planting in cornstalks or baling hay, hitch pins always seem to disappear.
Brian Lueck
Bloomer, Wis.
Share your unpublished ideas to join our $100 Ideas Club. The Double Your Money winner receives $200. Other farmers featured receive $100 each. All winners receive a hat. To submit your unpublished idea, which must include a description, photo or sketch, address and phone number, write to $100 Ideas, Farm Journal, P.O. Box 1188, Johnston, IA 50131-9421, email [email protected] or fill out the entry form at www.farmjournal.com/enter_100_ideas. All published material becomes Farm Journal Media property.