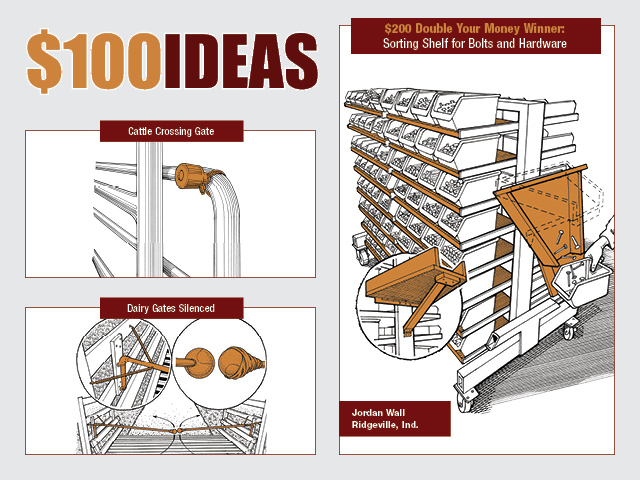 $200 Double Your Money Winner:
Sorting Shelf for Bolts and Hardware
I purchased some used heavy-duty racks with caster wheels and cut shelves from 5/8" plywood to hold my storage bins. Then I made a sorting shelf from plywood and attached it to the side with hinges. Now it's easy to dump the storage bin onto the shelf to find the bolts I need. Lift the shelf to release the support board. Lower the shelf and the bolts funnel back into the storage bin. Both the shelf and support board drop down for easy storage. Jordan farms with his family on the Nuckols Farms.
Jordan Wall
Ridgeville, Ind.
---
Dairy Gates Silenced
My gates were always making loud banging noises that disturbed the cows during milking hours. So I took an old silicone milking inflation and cut off the larger end. I made a slit to insert the hose clamp and attached that to the gate.  Now when you close
the gate, they are completely silent.
Simon Hofer,
Sioux Falls, S.D.
---
Cattle Crossing Gate
My calves jumped the cattle crossing, so I made a second gate. On each gate post, I installed two 1" PVC pipes joined in an "L" shape and used electrical pipe straps to hold them in place. Then I attached a long spring to the sides of each pipe. Tennis balls were also added to the ends of the pipe. Now I can open the gate with my truck and drive  right through.
Dale Wilson
Abbeville, S.C.
---
Share your unpublished ideas to join our $100 Ideas Club. The Double Your Money winner receives $200. Other farmers featured receive $100 each. To submit your unpublished idea, which must include a description, photo or sketch, address and phone number, write
to $100 Ideas, Farm Journal, P.O. Box 682, Johnston, IA 50131, email [email protected] or fill out the entry form at www.FarmJournal.com/enter_100_ideas. All published material becomes Farm Journal Media property.