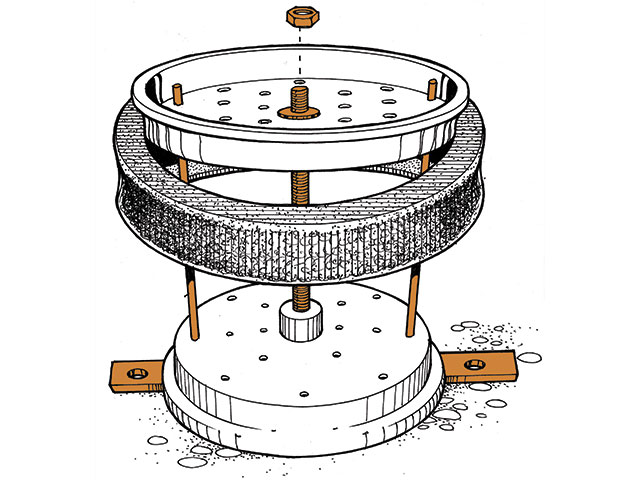 $200 Double Your Money Winner
Jig Makes Changing Gauge Wheels Quick Work
Rather than purchase an expensive whole wheel assembly, I made a $10 tire changing jig to replace the rubber tires on my split-rim planter gauge wheels. I welded two 5/16 " diameter rods, spaced 10¾" apart, on a 24" piece of flat iron, and then I placed the iron in a vise. With the tire warm and lubricated with dish soap, I used a 10"-long piece of 5/8" all-thread to pull the two wheel halves into the tire. When the wheel was pulled down almost tight, I installed the bolts. It took 10 minutes to change each tire. Glenn raises wheat, corn and soybeans with his son, Jason, who is a fifth-generation farmer.
Glenn Massoth
Yates Center, Kan.
---
Heavy-Lifting Jack for Sprayers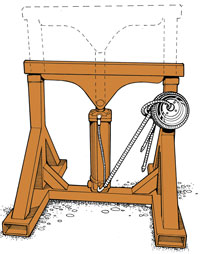 I needed a quick way to change my sprayer tires. I welded a scrap 16" stroke hydraulic cylinder to the middle of the jack and reinforced the top to handle the load. The rest of the jack is made of 4"x4" tubing. It's easy to lift the jack with a forklift or tractor. I can put the jack under the rear axle of the sprayer and move it to the front to change both tires at once.
Kevin Waldner
Salem, S.D.
---
An Extra Set of Eyes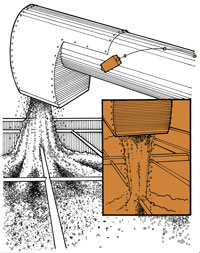 Unloading the combine is easy since I installed a wireless license plate camera. You can buy one for under $50. I attached the camera to the combine auger and wired it to a 12-volt battery. Then I plugged the monitor into the cigarette lighter plug. Now I can sit in the cab, watch the screen and know when to move my semi.
Galen Snorberger
Delphi, Ind.
---
Share your unpublished ideas to join our $100 Ideas Club. The Double Your Money winner receives $200. Other farmers featured receive $100 each. All winners receive a hat. To submit your unpublished idea, which must include a description, photo or sketch, address and phone number, write to $100 Ideas, Farm Journal, P.O. Box 1188, Johnston, IA 50131-9421, email [email protected] or fill out the entry form at www.farmjournal.com/enter_100_ideas. All published material becomes Farm Journal Media property.