$200 Double Your Money Winner: Hazard Lights Breakaway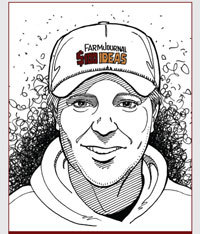 Jacob Schmidgall
Atlanta, Ill.
On the back of my John Deere tractor, the hydraulics are on the left-hand side and the light plugs are on the right. When in a hurry, I've forgotten to unhook the hazard light wires, and they break when I pull away. To alter how the lights plug in, I used male and female bullet connectors, crimped them and added a layer of electrical tape to keep out moisture. Now if I forget to unhook them and drive off, the connectors come apart and the wires don't break.
---
Sheet Metal Flashing Brake
To bend long pieces of thin metal, I built a 12" sheet metal brake that clamps in a vise. I welded a hinge to two 12" flat bars and then added square tubing perpendicular to create a handle to bend the hinge. Lastly, I welded square tubing at the bottom of the hinge to fit in the vice.
Duane Unruh
Ft. Sumner, N.M.

The Right Socket the First Time
To save time when looking for a socket wrench, I simply used a paint marker to highlight the sizes. Now, I no longer fumble around several sockets to find the right size. 
Brett Weich
Hoskins, Neb.

Share your unpublished ideas to join our $100 Ideas Club. The Double Your Money winner receives $200. Other farmers featured receive $100 each. All winners receive a hat. 

To submit your unpublished idea, which must include a description, photo or sketch, address and phone number, write to $100 Ideas, Farm Journal, P.O. Box 1188, Johnston, IA 50131-9421, email $100-Ideas@farmjournal.com or fill out the entry form at www.farmjournal.com/enter_100_ideas.  All published material becomes Farm Journal Media property.