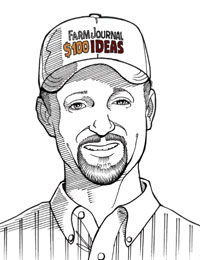 Don Smith
Scott City, Kan.
$200 Double Your Money Winner!
D&L Farms consists of brothers Don and Earl Smith. They raise corn, wheat and grain sorghum on irrigated and non-irrigated ground in west-central Kansas.

Wheels Keep the Sprayer Ladder From Bending When in Transport
We haul our self-propelled sprayers on a trailer that includes a deck for our chemicals. When securing the sprayer on the trailer, the ladder comes in contact with the deck, which bends the ladder. To fix the problem, I took the bolts out of the last rung of the ladder, replaced them with longer bolts and a spacer (to allow the wheels to turn) and attached a set of lawn mower wheels. Now, the ladder will roll if it comes in contact with the deck. An easy solution for the price of a couple of bolts and a set of lawn mower wheels.
---
Spare Tire Holder for a Cultivator
I got tired of calling for help every time I had a flat tire on my 7710 cultivator. After looking around the farm, I found two old hubs nobody would ever use again, mounted them to the frame and gave them a quick paint job. Now when I head to the field, I have a spot for two spare tires on the cultivator, one inside eight-hole tire and one six-hole tire for the outside wing. 
Jonas Wollman
Ethan, S.D.
---
Keep Track of Air Compressor Accessories
There is nothing more frustrating than reaching for a tool only to find parts and pieces are missing. In order to keep track of my air compressor accessories, I drilled holes in the top of the plastic hose reel to hold the parts. Now when I need an air chuck or air gun nozzle, it's right there, and I can finish the job.
Phil Chivers
Wynnewood, Okla.
---
How to Enter
Submit your unpublished idea with a description, photo or sketch, address and phone number.
What You Win
All winners receive a hat and check and are featured in Farm Journal and on AgWeb. 
The Double Your Money winner receives $200 and a coupon for up to $5,000 on new equipment built New Holland Smart. Their winning idea is also featured on "AgDay" television and "AgriTalk" radio.
All other winners receive $100.