$200 Double Your Money Winner!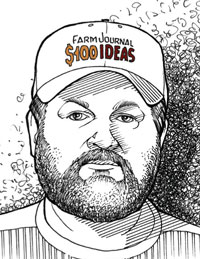 Roger Meyers
Chilton, Wis.
I needed a way to carry liquid fertilizer to my planter, and I thought the same system could come in handy when I needed to water our newly planted trees. I started with a pair of small saddle tanks I already had on hand and cut off some of the original framework to fit my plan. Next, I welded rectangular tubes on the bottom of the tanks at a width that matches the pallet forks on my skid steer. The tanks were already equipped with a hose and valve on the bottom. To move the tank, I slip the skid-steer forks through the rectangular tubing and transport the chemicals, water or any liquid where it's needed on the farm. 
 
Saddle Tank Makeover
In a quick two hours, Roger Meyers repurposed a couple of saddle tanks that can be easily transported with a skid steer. Meyers farms his father's ground as well as his own, raising corn, soybeans and wheat along with cash vegetable crops such as peas.  


 
---
Air Tool Caddy
I was having trouble keeping track of my tire air gauge, blower, air chucks, etc., so I took a ¾" conduit, cut it into five 1" pieces and tack welded them together. Finally, I welded a longer piece of conduit to the middle of the caddy to serve as a holder. Since I used leftover conduit, it only cost me 10¢, but the value is priceless!


Raylen Phelon
Melvern, Kan.  
---
Removable Cow Guard
We had a problem with the fenders on our four-wheelers breaking when bulls rub against them. So I decided to make a removable guard that wraps around the perimeter of the four-wheeler. Using 1½" pipe that is 1⁄8" thick, I bent the pipe to mimic the shape of the fender. I used 3⁄8" bolts to attach the frame to the front bumper and guard, two bolts to attach the bottom of the frame on each side and one bolt on the back guard. For extra stability, I created a bracket for the bolts to slip through on the top side of the guard.
Larry Waldner
Burnsville, Minn.
---
How to Enter

Submit your unpublished idea with a description, photo or sketch, address and phone number.