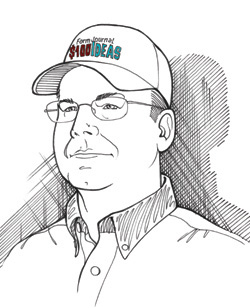 Amid the hustle and bustle of planting season, Kristin Gall of New Cambria, Mo., was thrilled to find a strong, reliable and inexpensive way to replace the hydraulic hoses that string through his planter frame. He raises corn, soybeans, cattle and a few hogs in north central Missouri and does most of the repair work on his equipment himself.
"When a hydraulic hose inside the tongue of my planter blew, I had to find a way to thread a new hose inside the cramped, Y-shaped tongue. After a couple of failed attempts, I took a National Pipe Thread (NPT) pipe nipple that matched the size of the hose, cut it in half and MIG welded a chain link to one end of each piece, creating a U-joint that would allow the hoses to flex around the sharp corners. To protect the open hose from the dirt and dust in the frame, I filled the U-joint nipple with weld."
Secure Connection
Sometimes I have trouble getting a secure connection when connecting implement hydraulic hoses to my tractor. I took a piece of pipe that would mate to the shoulder of the male coupling or the fitting and cut it open. Then I welded the cut pipe to a length of ¾" shaft. Now, I align the couplings and tap the shaft lightly to make a secure connection.

John Mohr
Prosser, Wash.
Labeled and Ready to Recharge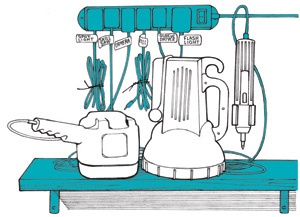 It's a hassle to not be able to find the correct charging cord or battery cradle for your battery-powered tools. I built a simple charging station for all of my rechargeable items: spotlights, drills, screwdrivers, etc. I installed a shelf, then attached a gang outlet above it. Each charging cord is
attached, labeled and color-coded to the tool it matches. To keep the cords from tangling, I wrap them with a cable tie.

Tommy Snell
Toomsuba, Miss.