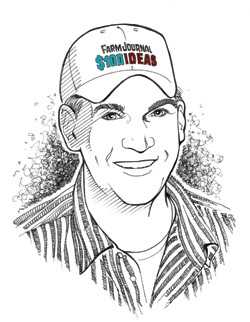 Despite the fact that Terry Wellmann of Hampshire, Ill., lives a state away from his family's south-central Minnesota farm, he can still keep tabs on grain drying. Using his skills as a computer programmer, he set up a remote monitoring device that consists of two cameras that cost $150, $100 in wiring and a $4 Android app. Terry helps his father, Eugene, during planting and harvest.
"This past fall, I connected two all-weather security cameras to our corn drying bin so my dad and I can monitor grain activity from our desktop computer, smartphone or tablet. One camera is mounted inside the bin so we can see how much corn is in the bin and if the stirring augers are running. A second camera points at our bin monitor to show the status of the computer. The app I use on my Android tablet is called tinyCam Pro. No matter where I am, I know what's going on at the bin site."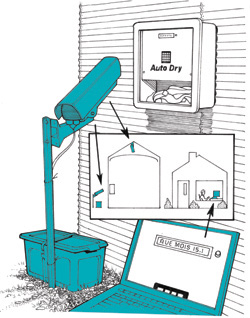 Middle of the Road
I use two 12' heavy-duty gates to close off the primary entrance to my cattle pasture. To keep them from sagging in the middle, I made a support bracket that straddles the two gates. I took a discarded disk blade and welded a pipe vertically. Then I welded a piece of channel iron on the pipe at a height that holds the gates level. I can open one gate while the other one rests in the channel iron or open both gates and roll the lightweight disk blade and pipe out of the way.

James Hofer
Mitchell, S.D.
Easy to Spot
It seems we're putting in longer hours during planting and harvest, which means running at night. It is hard to spot the orange markers for the tile risers, so I put reflective tape at the top of all of them. Now they are easier to spot and don't get run over by machinery.

Jim Gerdes
Auburn, Neb.