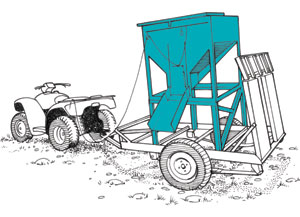 $200 Double Your Money Winner!
Jeff Housh was looking for an easier way to feed his cattle than hauling 5-gal. buckets in a truck or using a tractor. So he made his ATV trailer pull double-duty by building a frame for a feeder bin. The secondhand feeder cost only $100 and he used scrap iron for the brackets. Housh grows corn, edible beans, wheat and alfalfa and runs a cow–calf operation in northwest Nebraska.
No More 5-Gal. Buckets
Tired of carrying 5-gal. buckets, I made a frame to attach a livestock feeder to an ATV trailer. I like to use my ATV to feed so I'm not tying up a truck or tractor. The frame for the feeder is made from scrap iron and stands tall enough to fill the bunks. From the seat of the ATV, I can pull a rope to open the spring-loaded door on the feeder. The frame and feeder bin are bolted on the trailer so they are removable during the summer when I don't need the feeder.
Under Pressure
The well and submersible pump that serve our house and farm shop are several hundred feet away. To better monitor the pump, I tee'd a pressure gauge in the water line next to the sink in the farm shop. At a glance, I can see if there is any irregularity in the water pressure and possible pump or pressure switch malfunction.
Marty Dawson
Belt, Mon.
Accessible C-clamps
Instead of having a mess of C-clamps cluttered and tangled in a drawer, I made a wall bracket to keep them easily accessible. First, I took two 6"-long pieces of 1⁄8"×3" flat iron and bent a 90° angle at one end of each piece. I drilled two holes into each surface and welded the pieces to a 1½"×3" piece of rectangular tubing. The entire bracket was then attached to the wall. I can arrange C-clamps by size or use, and I can find the one I need without searching too long.
John Mohr
Prosser, Wash.
You can join our $100 Ideas Club!
Share your unpublished ideas and join our $100 Ideas Club. The Double Your Money winner receives $200. Other farmers featured receive $100 each. All 2012 $100 Ideas winners are entered to win a free trip to the 2013 Miller Welding University and secondary prizes.
---
To submit your unpublished idea, which must include a description, photo or sketch, address and phone number, write to $100 Ideas, Farm Journal, P.O. Box 1188, Johnston, IA 50131-9421, e-mail $100-Ideas@farmjournal.com or fill out the entry form at www.farmjournal.com/enter_100_ideas. Winners receive a hat and a check. All published material becomes Farm Journal Media property.