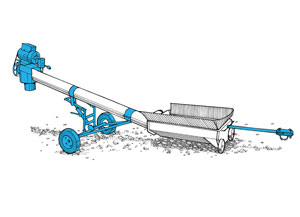 Using supplies we had on hand, we fabricated a transfer auger in a week's time for about $60. The main auger is salvaged from a 52' swing auger that was damaged in an on-road accident that left only the lower half usable. The wheels are from a small lawn trailer, and the electric motor was in storage in the back of our shop. We purchased the pulley to power the auger. The auger height can be changed by turning the adjustable top link that was once a tractor's three-point hitch. To move the auger from site to site, we attached a removable drawbar.
Tony Beatty
Belle Center, Ohio
---
Stays in the Back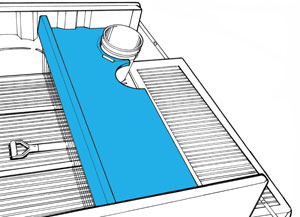 Tools and supplies were always sliding toward the cab and out of reach in my 8' pickup bed. Near the tailgate, I built a platform to hold smaller tools and cut out half-circle notches to secure 5-gal. buckets. The platform keeps the tools within reach, and when rocks and trash are put in the buckets, they stay upright without spilling. The platform fits snug between the sides of the truck and between the wheel wells and tailgate.

Tom Rauenhorst
Olivia, Minn.
---
Hay Strap Roller

I haul a lot of hay—and I used to waste a lot of time rolling up the straps by hand until I made a crank that fits into a cuff on my flatbed. The base is a 2" pipe that's 4" long and welded to a U-bolt for mounting. The post is 1½" pipe, 14" long, with a 1¼" close pipe nipple welded to the top. A 3⁄8"x2" piece of round stock is welded on the side to keep the post from turning. The crank is 1"x6½" pipe welded to a discarded crank handle from an air-cooled engine with a 4" slot cut on the sides. To operate, thread the strap into the slots and crank with one hand while guiding the strap with the other.

Vernon Blaisdell
Hartwood, Va.
With his strap rolling crank, Vernon Blaisdell can neatly roll up a 50' strap in a quick 15 seconds. The crank can then be removed from the side of the truck and stored until the next time he hauls hay. Blaisdell raises cattle, grain and hay.
%%RELATED_CONTENT%%