Limited rain fell across the central and northern Plains and Upper Midwest last week, but it provided little relief to states that are facing extensive drought conditions.
This week's U.S. Drought Monitor shows dry conditions have worsened in the West and parts of the eastern Corn Belt. These 14 states are all experiencing extreme or exceptional drought conditions:
Alabama
Arkansas
Arizona
Georgia
Hawaii
Illinois
Indiana
Kansas
Missouri
New Mexico
Nevada
South Carolina
Texas
Utah
Watch a six-week animation to see how drought conditions have spread across the U.S.: (click to enlarge)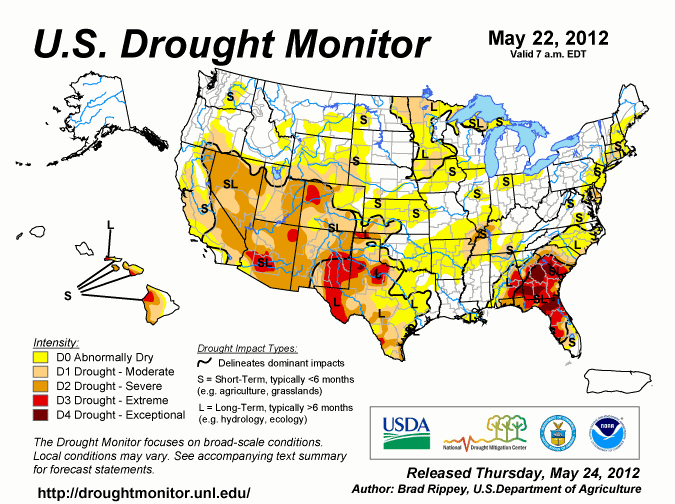 Here's a region-by-region breakdown, provided by Richard Heim, National Climatic Data Center, NOAA.
The Northeast and Mid-Atlantic: Areas of showers and thunderstorms moved across the Northeast this week with rains locally over 2 inches along the coast and in Maine. Above-normal rain fell over the abnormally dry areas of Massachusetts and Connecticut, but it was not enough to ease long-term deficits. The week was drier than normal further inland. With above-normal temperatures and limited rainfall, topsoil moisture continued to decline in most states.
The Southeast and Deep South: Tropical Storm Debby dropped 5 inches or more of rain over most of the Florida drought areas, with widespread 10+ inch storm totals. Up to 23 inches of rain was reported by a CoCoRaHS observer in Wakulla County. The tropical inundation all but eliminated drought from Florida. Only a small patch of D0 (with an L impact designation) remained along the southwest coast where Debby's rainfall totals of only an inch or two did little to eliminate deficits which have accumulated over several months.
Soaring temperatures and little to no rain expanded drought across other parts of the Southeast. Temperatures consistently topped 90 degrees Fahrenheit by the end of the USDM week across northern parts of Alabama and Georgia, baking the dry soils. The Deep South states of Mississippi and Louisiana saw expansion moderate drought. Severe drought grew in northern Louisiana.
The Midwest and Tennessee Valley: Showers in the Upper Midwest brought relief to some drought areas. But further to the south, it was another dry week with 90+ degree temperatures which continued to dry soils, stress crops, and lower stream levels, with abnormally dry and drought conditions expanding over a large area.
D1-D3 grew from Tennessee to Indiana and Illinois, D1 expanded in Ohio, and D0 expanded into southern Wisconsin and eastern Tennessee and slightly in West Virginia. An oval of D1 was introduced to northeast Tennessee-southwest Virginia and to southern Wisconsin-northern Illinois. Expansion and contraction of D0 occurred in Wisconsin and of D0 and D1 areas in Iowa.
The Plains: Excessive heat occurred in the Plains this week, with daily maximum temperatures soaring past 100 degrees late in the week. Healy, Kansas, whose record spans 111 years, set an all-time record high for the month of June when the temperature reached 113 degrees on June 25. In all, over 500 daily maximum temperature records were broken nationwide during this USDM week (June 19-25).
According to June 24 USDA reports, over half of the topsoil was rated short or very short in Texas (64%), Nebraska (64%), Kansas (63%), Oklahoma (60%), and South Dakota (51%), and half of the pasture and rangeland was rated poor or very poor in Kansas (53%). For a second week in a row, bands of heavy thunderstorms moved across southeast Nebraska to northeast Kansas. The 1-3 inch rains (and locally 3+ inches in northeast Kansas) trimmed the D1-D2 areas, but elsewhere widespread expansion of D0-D2 occurred in Nebraska and D1-D3 in Kansas.
The West: Pacific fronts associated with an upper-level trough brought an inch or more of rain to the coastal areas of Oregon and Washington and lesser amounts further inland this week, and a few tenths of an inch of rain fell with scattered showers over the Four Corners States, but otherwise the West continued bone dry. By the end of the week, temperatures topped 100 degrees from Tucson, Arizona to Glasgow, Montana.
The tinder dry conditions, hot temperatures and gusty winds fanned wildfires across the West, from New Mexico to Montana and California to Colorado, with twice as many large wildfires burning by the end of the week as at the beginning. June 24 USDA reports indicated most of the topsoil in New Mexico (93%) and Colorado (90%) was rated short or very short of moisture, with over half so rated in Wyoming (73%) and Utah (63%). More than half of the pasture and range land was rated in poor or very poor condition in New Mexico (90%), Arizona (72%), Colorado (70%), Wyoming (66%), Nevada (61%), and California (60%).
 
The Weather Ahead:
During June 28-July 2, a high pressure ridge is forecast to dominate the central and eastern United States. Showers and thunderstorms may develop along the northern and western fringe of the ridge, bringing a chance for rain to states in an arc from New Mexico to the Dakotas to Ohio, with the greatest chance for half an inch or more total from eastern Nebraska to northern Illinois.

Rain is possible in the Pacific Northwest and in the Northeast, southern Texas, and southern Florida. Otherwise, conditions will be very dry. Very hot temperatures will affect most of the country from the Intermountain Basin to the East Coast.
 

For More Information
How do your crops look? Submit your report to AgWeb Crop Comments.
Check your local forecast with AgWeb's Pinpoint Weather.
 
---