Nearly 80% of respondents are sitting on a fair or poor crop, according to a recent Farm Journal Pulse.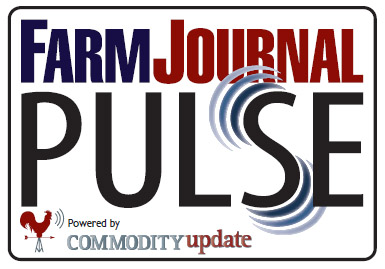 The health of the U.S. corn crop is of great concern as drought spreads across the Corn Belt.
As of July 16, USDA lowered the corn ranked good or excellent to 31%, a 9% drop from last week and a 35% decline from last year at the same time. Sixteen percent of the crop is very poor, 22% poor and 31% fair.
A recent Farm Journal Pulse, a text message poll of farmers and ranchers, asked farmer to rank the health of their corn crop. More than 2,000 replied with the following results
Condition of the corn crop as of July 18:
Excellent: 6%
Good: 18%
Fair: 33%
Poor: 44%
See the results on an interactive map: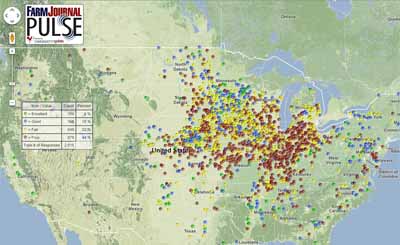 As you can see, most of the reports for poor, are located in the southern Corn Belt, which is where severe or extreme drought conditions persist.
According to the latest U.S. Drought Monitor, unrelenting heat and lack of rain continued the downward spiral of drought conditions in the Great Plains and Midwest. Extreme drought was introduced in Nebraska, Missouri, and Wisconsin, and expanded in Arkansas, Oklahoma, Kansas, and Indiana. Exceptional drought expanded in Arkansas and was introduced in western Kansas.
The city of Indianapolis, Ind., implemented mandatory water restrictions for the first time ever with many trees dropping their leaves and going dormant months early.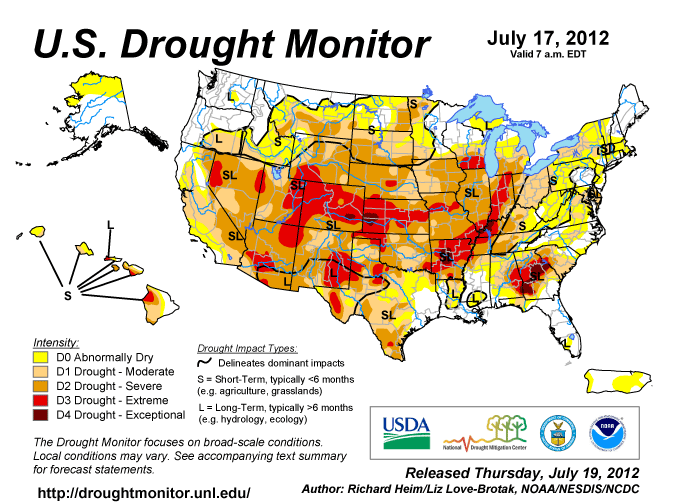 Add Your Vote
You're invited to be part of the heartbeat of our new national producer panel that speaks up and speaks out. Participating is as easy as answering two quick poll questions per month via text message from your mobile phone.
By partnering with
Commodity Update
, the leading provider of agricultural information to mobile phones, Farm Journal sends you the question via a text message on the first and third Wednesday of each month.