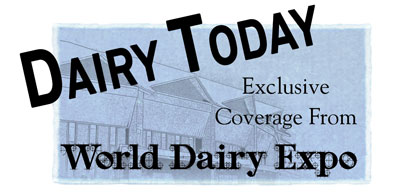 ---
World Dairy Expo Special Edition of AgDay
AgDay & Dairy Today spend a day at the 2008 World Dairy Expo in Madison, Wisconsin.  Click on the segments below to get a look inside this massive event:
Saturday, October 4
A day in the life of Comestar Lheros


With North American A.I. bull studs now off-limits to any outside visitors as a biosecurity precaution, Semex brought a virtual tour of its Gencor sire facility in Guelp, Ontario, to World Dairy Expo visitors on Saturday.


 
Navigating the corn silage hybrid maze
Long considered a minor crop, corn grown for silage is drawing more interest from seed companies and producers looking for less expensive, dairy-friendly corn.
 
Friday, October 3
Thursday, October 2
 
Wednesday, October 1
Tuesday, September 30
---