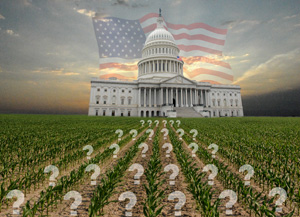 The bill made it through the Senate Ag Committee, but a fully approved version is still on the horizon
Last week, the farm bill was approved by the Senate Agriculture Committee, but the road to a passed bill is far from over. "Getting out of the Senate Ag Committee is just the first step," says Jim Wiesemeyer of Informa Economics.

Congress is currently in a one-week recess. When Congress is back is session, Wiesemeyer says the farm bill completion timeline will be determined by amendments offered while the bill is in the hands of Senate Majority Leader Harry Reid (D-Nev.). Once the Senate passes the bill it will go to the House, which is where Wiesemeyer says we will see the most substantial changes made to the bill. "We've got many hurdles to jump before we get a farm bill," Wiesemeyer says.
Here's the timeline:
Passed through the Senate Ag Committee
Goes to the full Senate for amendments and approval
From the Senate it goes to the House for the House Agriculture Committee mark-up
The House Agriculture Committee has to approve it; then it goes to the House floor.
Once the House amends and approves the bill, it heads for approval by President Obama.
 
Will we have a 2012 farm bill?
Mary Kay Thatcher of the American Farm Bureau says if the bill doesn't get worked out and through Congress in the next 30 days, it will not be likely. Listen in as she discusses the bill with AgWeb Radio host Pam Fretwell in Washington, D.C.