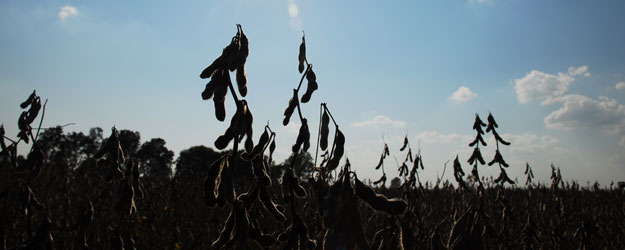 Editor's note: This is one of seven 2014 marketing outlooks, the AgWeb.com editors are providing to help you succeed and be profitable in the coming year. Please check back each Monday for another outlook.
---
If you're storing soybeans, you might want to empty your bins soon—prices could gradually tumble as 2014 approaches.
If you didn't sell soybeans right off the combine this fall, you might want to consider emptying your bins soon. Prices could easily tumble as we move toward spring and early summer. "Nearby futures of $12.75 have come down but they're still at a good place for producers," says Chad Hart, ag economist at Iowa State University. "That's still more than $1 above average production costs."

"The market is saying to sell," he says. Expect gradual price deterioration from now through 2014, he adds, noting that old-crop soybeans are an inverted market with little upside potential. Because of that, he doesn't expect current levels to hold; deferred months deeply discounted. A major departure from what the market is telling producers right now would require a supply or demand surprise that analysts don't see in their crystal balls.

Hart is in good company as most analysts have their feet firmly planted in the bearish camp. "For old crop, prices are likely to continually grind lower, down $1.50 or so from current levels," says Darrel Good, University of Illinois ag economist. "By February, I'd want downside risk covered," he adds. "The bulk of Chinese buying is now behind us." Perhaps most important, Brazil and Argentina have planted a record number of soybean acres and the crop is off to a good start.

With the odds favoring a combination of record South American and U.S. production in 2014, it would require major weather scares to push prices over $13/bu. For farmers wanting to protect the upside just in case the unexpected happens, one strategy Hart likes is this: sell old-crop soybeans in the cash market, then re-own with call options. For producers wanting to put on price protection but for tax reasons don't want additional income on the books for 2013, he suggests buying call options but storing soybeans until the New Year.

Fast forwarding to next year's crop, November 2014 soybean futures are presently about $1.25 lower than old crop. "That might not be enough," Good says. "We could see price erosion of 50 to 60 cents on the November contract."

Because of that, it makes sense to price at least some 2014 sales on rallies, he says. "But I would not be aggressively sold," Good adds. "The South American crop is not made yet." Not expecting an immediate price crash for new crop futures beyond what already has occurred, Good does not see a high level of additional downside risk between now and March 1. This provides producers a little better than a three-month pricing window. "It all depends on how fast futures come down," Good says.

One market strategy producers can consider is to wait until crop insurance level guarantees are announced, based off November 2014 futures during February. "Crop insurance may allow producers to have a significant amount of downside risk covered," Good says. Another strategy is to protect downside risk with put options at the same time producers lock in their inputs. That protects a margin on at least a portion of production, Hart says.

The good news for soybeans is the demand side. USDA forecasts exports of 1.45 billion bushels for the current marketing year. "That's not quite a record, but still very strong," Hart says. Not only that, domestic soybean crush has also marched higher. "It's just that supplies are going up faster than demand," he explains.

One macro factor influencing soybean prices is other oils, particularly palm oil. "Palm oil is keeping a lid on how high soybeans can go," Hart says. From 2009 to 2013, global palm oil production increased 26%. Production in Indonesia, the world's largest producer, is up 41%, as producers there have been planting more trees for the perennial crop, in part to meet rising demand from Europe. It's not only there. "We're starting to see an uptick in palm oil imports into the U.S.," Good notes. This, combined with a slowdown in soybean meal exports, "is part of the overall decline in prices," he says.

This isn't the only bearish factor for demand. Another is the reduction of biodiesel targets from Renewable Fuels Standard (RFS) mandates in a proposed rule by the Environmental Protection Agency (EPA) mid-November. The move is part of an overall reduction of bioenergy mandates, following heavy lobbying by oil companies. EPA has proposed to set 2014 biodiesel volumes at 1.28 billion gallons while reducing the overall advanced biofuels requirement to 2.2 billion gallons. The biodiesel category is a subset of the advanced biofuels category.

Biodiesel production is on track to set a record of 1.7 billion gallons this year. However, because 2013 production can be carried over for mandate compliance into 2014, the proposed rule that freezes biodiesel production at 1.28 billion gallons for the next two years could mean an effective market closer to 1 billion gallons. "This proposal, if it becomes final, would create a shrinking market and likely cause biodiesel plants to close around the country," says Anne Steckel, vice president of federal affairs for the National Biodiesel Board.