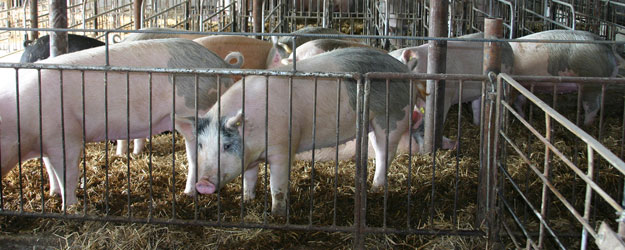 Editor's note: This is one of seven 2014 marketing outlooks, the AgWeb.com editors are providing to help you succeed and be profitable in the coming year. Please check back each Monday for another outlook.
---
The 2012 drought left deep scars on the pork industry, but profit opportunities finally abound.
This year served as a turnaround time for cash-strapped hog producers. For the past several years, record-high feed prices plagued the industry causing herd reductions and monumental debt.
High feed costs have been a persisting problem since late 2006. Then, in a matter of a few weeks during the summer of 2012 drought caused corn prices to begin the surge to record highs. "In three weeks, the world just changed," says Chris Hurt, a Purdue Extension ag economist. "You can't change your breeding program with hogs in three weeks."
Since pork producers were left with few options, they reduced herds as much as possible and weathered the storm. During the last half of 2012 and the first half of 2013, Hurt estimates producers lost a staggering $24 per head, primarily due to high feed prices.
Luckily, for pork producers, those cuts in hog production resulted in strong hog prices and much lower corn prices with the more favorable 2013 crop has returned the industry to profitability.  Hurt says as of the last half of this year and during first half of 2014, producers should see profits of about $30 a head.
"While that sounds like a lot of money, producers are really just offsetting the drought losses and doing a little better," Hurt says. "But, these are good returns. By next spring and summer we should see some extraordinary returns – maybe around $40 per head."
Herd Expansion Begins
After several years of herd reductions, Ron Plain, University of Missouri Extension livestock marketing economist, says producers are finally able to start rebuilding breeding herds.
"History says it takes 5 months of profits before we start to see herd expansion," he says. "October was the fifth month of profits, so we're expecting producers to start expanding breeding herds somewhere in the tail-end of 2013 and that will give us more hogs on the market starting in 4th quarter of 2014."
Hurt says producers are retaining and breeding more gilts. By next summer, Hurt predicts the U.S. breeding herd will have expanded by 2-3%.
A Side of Bacon
The past few years of high pork production costs have resulted in higher pork retail costs. Hurt says that since 2007, the average American reduced yearly pork consumption by around 5 lbs.
"Consumption has been weak because pork producers had to see record-high market prices to pay for the record-high feed costs," he says. "When retail prices go up, consumers tend to eat less."
Plain says retail price of pork in August was all-time record high of $3.75/lb.
Even though prices have been high, one pork cut is still in high demand. "We go through food fads," Plain says. "And, bacon is an in food right now. It is popular with chefs and demand is up."
Since only so much of a hog can be turned into bacon, Plain says prices have gone higher. "Bacon is more expensive in grocery stores than pork chops," he says.
Robust Outlook for 2014
From 2006 to 2012, Hurt says the amount of meat that the average U.S. consumer ate per year declined about 20 lbs. While it will take time to regain all 20 lbs., if ever, Hurt says that by 2016 consumers should up their meat intake by 5 to 6 lbs per person per year.
So, which meat species will earn back a bigger spot on the dinner plate?
Hurt says beef will get almost none of it because they cannot increase beef supply until at least 2016. He says before the cattle industry can truly expand, producers need to see the drought completely go away.
"The poultry industry and pork industry will capture most of the increased meat consumption in the next several years," he says. "Poultry has the best opportunity since they can expand the quickest. But, pork is definitely in the game."
Overall, Plain and Hurt agree 2014 should be a profitable year for pork producers.
"Meat supply is tight and prices are high," Plain says. "With lower feed costs, we will expand production and eventually consumers will get lower prices in the grocery story."
Hurt says pork consumption per person will be rising in the U.S., and population in the U.S. is also somewhat growing. Additionally, U.S. pork is in a great position to increase exports. "That's three homeruns," he says. "If pork producers made it through to this point, they are survivors and will do fine."
..................................
2014 Marketing Outlooks
The editors at AgWeb.com are taking a look at experts' 2014 projections for corn, beef, wheat, hogs, soybean, cotton and dairy.
---