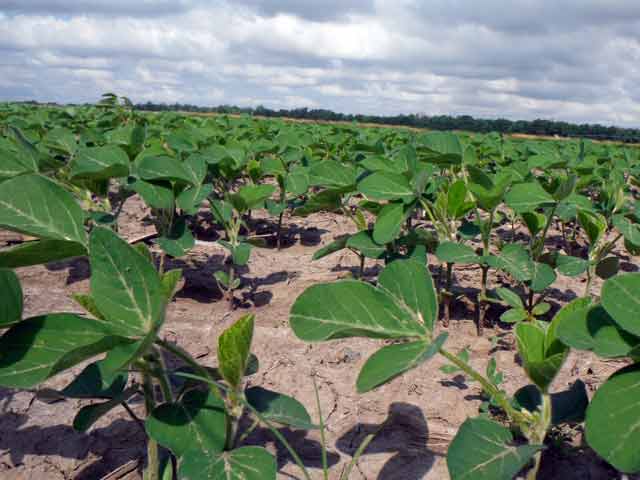 Corn and soybeans conditions in Iowa differ county to county and in some cases, field to field. Early season rain meant some farmers struggled to put a crop in the ground, while other farmers missed rain and started the season strong. Even now, some parts of the state have too much water, and others are experiencing drought.
Soybean Expectations
"Six of the nine crop-reporting districts will be at least as good as last year," says Mark Johnson, Iowa State Extension field agronomist. "Those other three won't do as well."
The three districts that seem to have been hit the hardest are West Central, Southwest and South Central. In some cases, farmers didn't get to complete their planting of soybeans until June.
Soybeans in Iowa show considerable variability. Some areas look to have stellar yields that will at least match last year. However, certain counties are starting to see sudden death syndrome take over fields thanks to planting into cool, wet soils and some late-season rains. Johnson worries that some areas will fall short in yields.
"It's still a little early to say, but it looks like it's not going to be as good of a soybean year as a corn year," Johnson says.
USDA's latest Crop Progress report indicates Iowa's conditions are a little more optimistic at 21% poor to fair and 79% good to excellent.
Corn Expectations
Planting season seems to have gone more smoothly for Iowa's corn farmers, who had fewer delays than in soybeans. While there is still some variability, it doesn't appear to be as extreme as the case of soybeans.
"There is a lot of flooding in low areas," says Virgil Schmitt, Iowa State Extension field agronomist. "When you back away and look at the crops in general, they look pretty good."
Rain stayed pretty steady throughout most of the state during pollination, which can be beneficial to many corn farmers who may have fewer aborted kernels. If the spigot stays on test, weight should be adequate too. However, good moisture can lead to disease and early death.
"Keep watch in areas with heavy northern corn leaf blight and gray leaf spot," Schmitt says. "If we end up with plants that die early, watch for low test weights and grain that won't store as well."
Overall, both USDA's Crop Progress report and Schmitt agree corn is in a good position this year. USDA reported only 17% poor to fair conditions and 83% good to excellent in corn.
See full coverage of the 2015 Pro Farmer Midwest Crop Tour, hosted by Pro Farmer.
Take your own field measurements and participate in Pro Farmer's Virtual Crop Tour.
Follow the Tour on Twitter with the hashtag #pftour15.