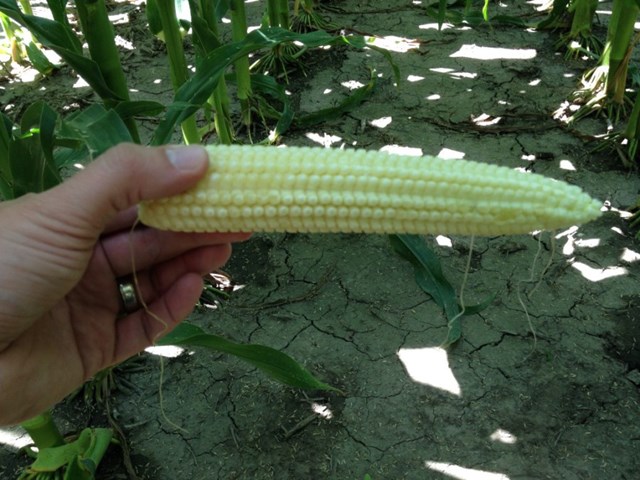 Like nearly every other major corn- and soybean-producing state, Nebraska had to deal with more than a few rainy days this spring.
"Excessive and frequent rainfall during May and June caused delayed planting and wetter than desired planting conditions in portions of Nebraska," says Roger Elmore, Nebraska Extension cropping systems agronomist.
In the south central and southeast districts of the state, that rain hit record levels, delivering more than 10 inches of precipitation in May and again in June.
While that wet weather will save those Nebraska farmers money on irrigation, it may end up costing them at harvest. "Unfortunately erosion, reduction in stands and ponding/flooding has created a crop with a lot of variation in yield potential," says Elmore. "The eastern portion of the southeast crop district is largely rainfed acres, and it will be interesting to see how the crop ends up."
Scouts on the Pro Farmer Midwest Crop Tour should also be prepared for the effects of heavy spring rains in central and east central Nebraska, where growers encountered ongoing planting delays. "In areas that did not get a break from frequent rains, the later than normal crop development will be noticeable during the tour. Many soybeans are still in the full pod stage (R4), one week later than last year," says Nathan Mueller, a cropping systems educator with Nebraska Extension.
Like so many other areas of the Corn Belt, there are big differences in crop quality in certain parts of Nebraska.  "The condition of the corn and soybean crop is good but quite variable across the region," Mueller says. "I expect portions of counties like Dodge and Washington to have bumper dryland crops with yields nearing 220 bu. per acre for corn and 60 bu. per acre for soybeans, while other areas will have average yields at best given late planting in June and variability within the field."
In 2014, the average yield in Nebraska was 179 bu. per acre for corn and 54 bu. per acre for soybeans.
Where will scouts find the best corn and soybean crops in Nebraska in 2015? The northeast and north central sections of the state. "Northeast Nebraska had dryer conditions than much of the state in April and May, allowing for timely planting," Mueller says. "Additionally, June and especially July rainfall was above average with many receiving more than 5 inches in July."
That measured pace of moisture should benefit the non-irrigated fields common in that area. "Expect to see very good dryland corn and soybean crops compared to the three-year average," Mueller says.
With the exception of those early rains, though, Mother Nature has been fairly kind to the Cornhusker State, according to Elmore and Mueller, who expect to see an "average to slightly above-average irrigated crop and a great dryland crop" in the state.
"Mild July temperatures across much of Nebraska limited any crop stress during the critical period of corn pollination and soybean pod set. Overall, drought and heat stress have not been major factors this year, which bodes well for the Nebraska crop," they say. "It is hard to complain about too much rain early in the growing season and little heat stress later on the dryland corn and soybean acres in Nebraska."
What do fields in your area look like? Send your photos and observations to AgWeb's Crop Comments.
See full coverage of the 2015 Pro Farmer Crop Midwest Crop Tour, hosted by Pro Farmer.
Take your own field measurements and participate in Pro Farmer's Virtual Crop Tour.
Follow the tour on Twitter with the hashtag #pftour15.