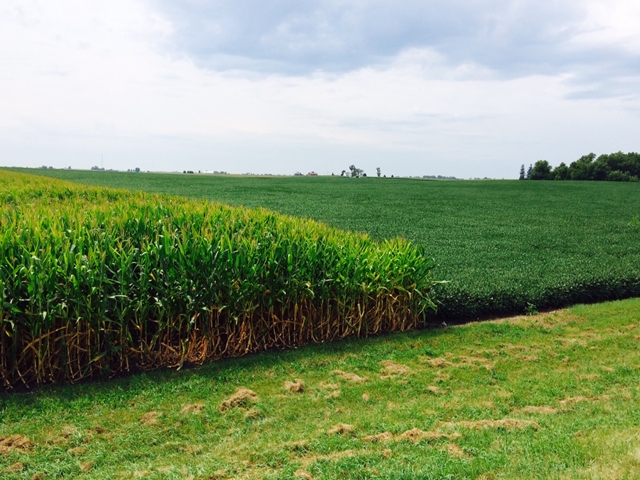 Rain makes grain – for the most part. But volatile weather always brings variable crops.
That's what 2015 Pro Farmer Crop Tour scouts are certain to see in Illinois, promises University of Illinois Extension specialist Emerson Nafziger.
"Scouts will see everything from zero yields to high yields – sometimes in the same field," he says. "We haven't had the cool July that boosted the crop in 2014, but it's not been that bad, and I think we'll see some 220-bushel yields if the weather holds up."
"Most" of the corn and "some" of the soybeans were planted on time this season, Nafziger says. Too much rain plagued some areas, but overall the weather has been favorable, he says.
"The only major weather-related problem was standing water in fields," he says. "Root systems in those areas are poor, and even where water didn't stand, we think root systems are somewhat shallower than would be idea. And while warm wet conditions normally make plant diseases worse, we haven't actually been seeing a lot more disease than normal."
Because Illinois stretches 390 miles from north to south, some variability is to be expected. For example, according to the latest Illinois Crop Progress and Condition report from USDA (week ending Aug. 9), the Northwest district has accumulated 1,835 growing degree days since May 1 (44 less than normal), while the Southeast district has accumulated 2,377 growing degree days in that time (148 more than normal). That's a 29.5% difference.
Statewide, crop progress is slightly behind the five-year average for corn and soybeans. The crop condition for corn is 5% very poor, 10% poor, 29% fair, 43% good and 13% excellent. Soybeans clock in at 6% very poor, 13% poor, 31% fair, 41% good and 9% excellent.
When asked to envision a perfect finish to the season, Nafziger suggests "every day with full sunshine, high temperatures of 80 to 85 (which is seasonal average), lows in the low 60s, and one inch of rain every Sunday night."
What do fields in your area look like? Send your photos and observations to AgWeb's Crop Comments.
See full coverage of the 2015 Pro Farmer Crop Midwest Crop Tour, hosted by Pro Farmer.
Take your own field measurements and participate in Pro Farmer's Virtual Crop Tour.
Follow the tour on Twitter with the hashtag #pftour15.