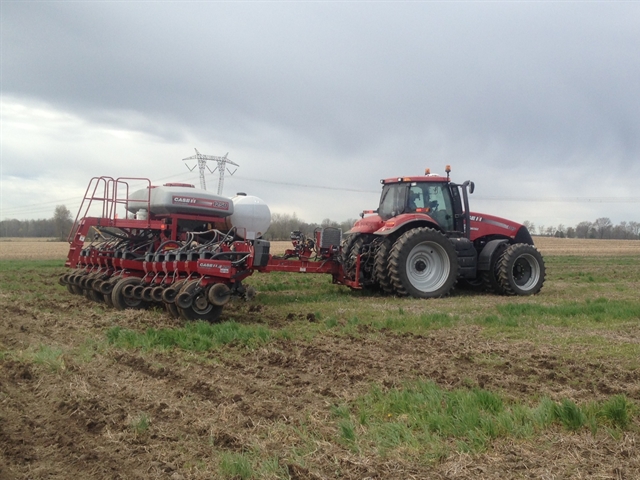 Some years Mother Nature is kind, and other years she leaves you fighting for every bushel. In Indiana, the latter has been true for most of the state in 2015.
Record rains have doused the state throughout the growing season, highlighted by the second-wettest June and July on record. In July, some areas in central and south-central Indiana overflowed with 12 inches of rain or more.
The excessive precipitation has already taken a major toll on the state's crops, with Purdue estimating earlier this summer that farmers have lost at least $486 million in corn and soybean opportunities.
What will Crop Tour scouts see on their trip across the Hoosier State on Aug. 17-18? If AgWeb Crop Comments are any indication, it could be a bit ugly.
"We took a trip from northern Indiana to Columbus, Ohio," offers one reader from De Kalb County, Ind. "The corn was very ugly. Most probably will yield from 50 bu. to 125 bu. Maybe 10% [of what we saw] was in the good category."
Meantime, a reader in Putnam County, Ind., says expect to see a lot of variability.
"The good crops keep looking better and better, and the bad stuff is going to be a nightmare for some guys," he says. "At this point [7/21], the township I live in will have some record-high corn yields and some record-low corn yields as well."
According to the most recent USDA crop conditions report [8/10]: "Much of the corn crop remains yellow, and some corn stands have aborted kernels at the ear tips due to the lack of nitrogen and disease. Farmers report small ears for corn and fewer nodes than normal for soybeans."
Statewide crop conditions for the week ending Aug. 9 for corn were 9% very poor, 16% poor, 28% fair, 35% good and 12% excellent. The same report had soybeans at 8% very poor, 16% poor, 31% fair, 36% good and 9% excellent.
What do fields in your area look like? Send your photos and observations to AgWeb's Crop Comments.
See full coverage of the 2015 Pro Farmer Crop Midwest Crop Tour, hosted by Pro Farmer.
Take your own field measurements and participate in Pro Farmer's Virtual Crop Tour.
Follow the tour on Twitter with the hashtag #pftour15.