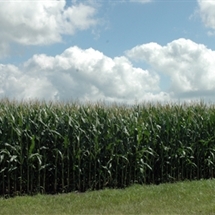 Minnesota corn growers could be in for one of their best years ever, according to Jeff Coulter, Extension corn specialist, University of Minnesota. Corn was planted early and is about seven to 10 days ahead of normal crop progress.
"The corn crop in Minnesota looks excellent this year. Pollination has completed and the crop was not under much, if any, stress before or during pollination. The highly productive areas of most fields should yield really well this year, and the low productivity areas of most fields should produce average yields in most cases," says Coulter. Overall, he expects the state average to be exceptional when compared to past years. Average yield has ranged from 165 to 170 bu. per acre for Minnesota during recent years.
Corn harvest typically begins in early October and ends in early November. "Everything is looking good and we don't have any big concerns right now. This may turn out as a great year for corn growers in our state."
Solid Season for Soybeans
As for soybeans, the growing season is shaping up for a solid year. Seth Naeve, soybean agronomist with the University of Minnesota, says growing weather has been ideal. "We had timely planting and good rainfall afterwards. Beyond that, we've had measured rains throughout the summer."
Typical state soybean yields average in the mid-40s, but Naeve hopes for an 2015 average near 50. "The high 40s to 50 is very doable, but our August and September weather will be the driver as we approach harvest. If these weather patterns continue and we have a few general rainfall events come through, we're set up for a great season."
What do fields in your area look like? Send your photos and observations to AgWeb's Crop Comments.
See full coverage of the 2015 Pro Farmer Midwest Crop Tour, hosted by Pro Farmer.
Follow the tour on Twitter with the hashtag #pftour15.