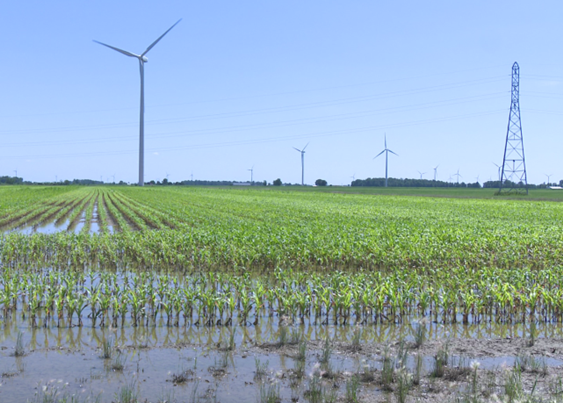 Soybeans in Ohio are showing a great deal of variability after a drenching June brought record-breaking rain frequency in central Ohio. "Farmers who planted earlier in May got through the wet weather better, but farmers who couldn't plant had a lot of trouble getting in fields," says Laura Lindsey, a soybean and small grains specialist with Ohio State University.
In 2014, Ohio growers averaged 49 bu. per acre. Yields in the high 40s are typical, but Lindsey anticipates a slightly a lower state average this year, possibly close to 47 bu. per acre. "I think the big difference we'll see is the number of acres planted versus the number of acres harvested," she says. "We just had so many wet fields."
Ohio fields are typically wet around planting and the season can last anywhere from April to June. Harvest follows the same moisture pattern and weather predictions are pointing toward a wetter-than-average fall in Ohio. "Harvest can last anywhere from September to November," says Lindsey. "If things get really rough, we can have beans in the field in December."
Corn Expectations
It's been an up-and-down season in Ohio's corn country. The planting window remained open until the middle of May. But afterwards, rain every three to five days kept growers out of fields until the end of the month. "If growers got in before mid-May, planting was generally a success," says Alex Lindsey, a crop ecophysiologist for Ohio State University.
During June and July, Ohio received well-above-average rainfall, but a recent dry spell has allowed soil to dry, enabling corn plants to take up nitrogen. With help from accumulating heat units, harvest shouldn't be much later than usual. Typical harvest dates range from Oct. 1 to the middle of November.
State averages normally range between 160 bu. to 175 bu. per acre, but yield expectations are difficult to gauge, with a lot of gain still to be determined during August, according to Lindsey. "Yield may be partially determined by nitrogen availability, and weed pressure from earlier in the season may also play a significant role," he said.
What do fields in your area look like? Send your photos and observations to AgWeb's Crop Comments.
See full coverage of the 2015 Pro Farmer Midwest Crop Tour, hosted by Pro Farmer.
Follow the tour on Twitter with the hashtag #pftour15.