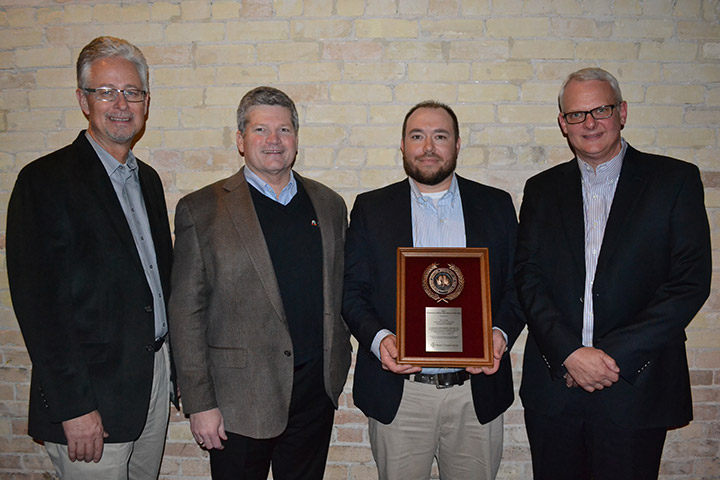 Guy Collins, Extension associate professor for cotton at North Carolina State University, received the industry's top Extension honors at the 2015 Beltwide Cotton Conferences Jan. 6 in San Antonio.
Steve Nichols, head of agronomic services for Bayer CropScience, saluted Collins on his achievement, noting that he is a well-established professional in the industry whose expertise and research have helped many growers improve their production and increase yields.
"Guy's accomplishments are well known in the industry, and he is extremely deserving of being recognized as Cotton Specialist of the Year," he says.
Darrin Dodds, associate Extension professor at Mississippi State University, says he has enjoyed working with Collins on annual variety trials for the past four years. Because the award winner is selected among his or her peers, Dodds says Collins is truly deserving of the honors.
"His commitment and passion to help cotton growers and agronomists be the best they can be is incredible," he says. "He constantly demonstrates leadership in the field, and it shows in his work. People seek out Guy's opinion for the Extension work he's done, the level of knowledge he has about cotton agronomy and the leadership qualities he exemplifies. This award signifies the work ethic he brings to the field every day, and the love he has for the field."
The Extension Cotton Specialist of the Year has been awarded since 1984 and sponsored by Bayer CropScience since 1998. Recent past winners include:
Darrin Dodds – Mississippi State University (2014)
Randy Norton – University of Arizona (2013)
Tom Barber – University of Arkansas (2012)
Chris Main – University of Tennessee (2011)
David Wright – University of Florida (2010)
Dale Monks – Auburn University (2009)
Robert Lemon – Texas A&M University (2008)
Mike Jones – Clemson University (2007)
Randy Boman – Oklahoma State University (2006)
Bobby Phipps – University of Missouri (2005)