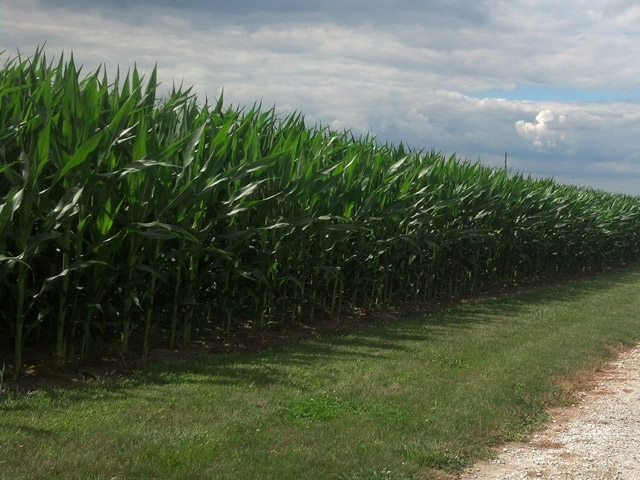 Editor's note: This is one of eight 2015 marketing outlooks, the AgWeb.com editors are providing to help you succeed and be profitable in the coming year. Please check back each Monday for another outlook.
 
The state of the 2015 corn market hinges on a question that is both economic and emotional: Can farmers afford to stay loyal to corn next year?
After peaking at an average farm price of $6.89 a bushel on 97.2 million acres, corn prices—and acreage—have moved lower in 2014, hitting as low as $3.25 in October, thanks to a history-making harvest of more than 14 billion bushels.
It's a downward trend for corn prices that many think could continue, given the marketing forecast for 2015. While demand for corn is expected to grow next year, especially from exports, prices are projected to hover around the cost of production for the grain. Economists at Kansas State University expect the 2015 corn price to average $4.15 a bushel, which is less than half KSU's projected $9.50 per bushel price for corn's closest competitor: soybeans.
The acreage numbers are changing, little by little. In 2014, farmers planted 90.9 million acres of corn (down from 95.4 million in 2013) and 84.2 million acres of soybeans, up from 76.8 million in 2013. The two crops could almost equalize in 2015, with 87.9 million acres projected for corn and 89.7 million acres for soybeans, according to KSU.
But not everyone is convinced that most farmers are truly ready to cut back on corn, even with the strong demand, higher prices, and lower input costs that soybeans offer. "Ostensibly, the balance favors soybeans, so you'd think there would be a shift back to soybeans," says Charles Hurbaugh, a professor of agricultural engineering at Iowa State University in Ames, "but I'm not sure of that."
The reason? Big yields, which give farmers the chance to make money on volume, even when prices are low. "We got some pretty juicy yields this year," notes Hurbaugh, who says a field that yields 220 bushels is financially compelling, even at a price of $3.50 per bushel. "There's something about harvesting 220- to 230-bushel corn that makes you feel pretty darn good, and the corn yield potential just keeps going up and up."
But the amount of money required to produce such a yield may cause farmers to reconsider, at least this year. "I think the real key [to acreage] is will be the prices of the inputs and whether the inputs prices come down," Hurbaughs says. "The input suppliers were very happy to price for $5 to $7 corn."
Seed, fertilizer, herbicide, insecticides, irrigation—they all add up. Seed expenses, as measured as a percentage of budgeted revenue, hit a record high of 15.7 percent in 2014, according to agricultural economist David Widmar, a researcher at Purdue University's Center for Food and Agricultural Business.
It could be even worse in 2015. "At the $3.90 per bushel price level and seed expenses the same as 2014 ($118 per acre), seed costs would amount to 21.3% of total revenue, shattering the most previous record," Widmar says. "Given the margin squeeze producers will face, it stands reasonable to question if the trend of upward corn seed expenses is sustainable."
Seed companies are already seeing farmers look for savings. "There are some growers out there who always want the new hybrids," says Eric Boersma, head of product management, corn, for Syngenta. "But some of the growers who normally use brand-new hybrids are really scrutinizing the purchase decision," asking for older hybrids that may have fewer traits—or just the essentials--and a lower price tag.
With all those factors, grain exports suspect that if anyone takes a break from corn, it will be in places like Montana, Kansas, and the Dakotas, where corn acreage grew along with corn prices. "The areas that became newly economical for corn—that is where the pencils will be sharpest," Harbaugh predicts.  With corn at $4 or below, irrigation needs and groundwater concerns may push growers towards other crops; the ongoing worries about transportation and weak basis may also factor into their decision.
For those who choose to stay with corn, they will likely be rewarded with ongoing demand for their grain. Animal feed, ethanol, exports, and more are expected to consume 13.66 billion bushels of corn this year, according to the USDA's most recent WASDE report.
"At the end of the day, China has a billion people," says Chris Robinson, senior risk manager with Top Third Ag Marketing in Chicago. "They have one hog for every three people. I think it's going to take really good production to keep up with demand."
Hurbaugh agrees.  "With prices of hogs and cattle at record levels, we have not seen a falloff in consumer demand" for pork and beef, he says. "You are going to have bigger herds with the prices we have for animal products and animal feed."
Ethanol, too, could give the corn market a boost.  With the midterm elections finally behind us,  farmers finally "could see movement on [renewable fuel standards] sometime next year after Congress reconvene," notes Christopher Narayanan, director and head of global agricultural commodities research at Societe Generale in New York.
Will we have another history-making crop in 2015? It's hard to say. While some, like KSU, project a 13-billion-bushel harvest, others, like Hurbaugh, think the numbers could continue to climb. "Fifteen billion bushels is not out of the question," he says, adding: "Huge crops are only a problem price-wise if there isn't demand."

What are your top concerns for corn in 2015? Are you moving acres out of corn and into other crops? Let us know on the AgWeb discussion boards.
2015 Marketing Outlooks
The editors at AgWeb.com are taking a look at experts' 2015 projections for corn, beef, wheat, hogs, soybean, cotton, machinery and dairy.