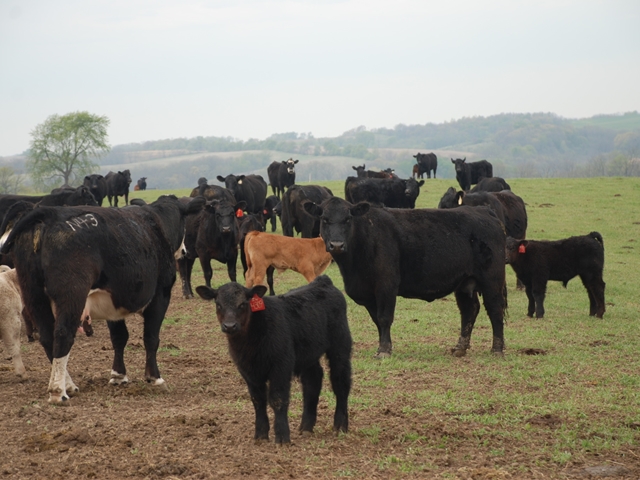 Consumer demand remains robust, with no signs of decline.
As good as the cattle markets have been in 2014, next year should be even better. Even among economists, wary as they are about predicting a market rally, few hesitate to predict 2015 to be another banner year.
Being economists, their forecasts usually revolve around cattle numbers, beef supplies and feed prices. And all of those ingredients are certainly in the pot to cook up more cowboy profits next year, but the driving force to continued success may not be any of those. The most critical leg supporting cattle and beef prices is consumer demand, and that surprising strength is expected to continue next year.
Record Beef Prices
In terms of retail prices, this year has brought new highs. In U.S. retail stores, the Beef Retail Price Composite (BRPC) hit $5.62 per pound in October, a new record, according to USDA's Economic Research Service. Retail ground beef prices averaged $4.15 per pound, which was also a new record.
Those retail prices are a reflection of prices on the hoof paid at the feedyard gate, where prices were astonishingly good this year. Record-high prices for every class of cattle were established in every quarter of 2014, and fed cattle currently hover close to the all-time high of $174 per cwt.
The year-long cattle market rally was spurred by historically short supplies. America's cow herd is the smallest (29 million) in 60 years, with a total cattle inventory of 87.7 million, which is also the lowest level since Harry Truman was president. Those short supplies produced roughly 24.4 billion pounds of beef in 2014, a 5.2 percent decline from 2013 and the smallest annual slaughter since 1994. Total steer and heifer slaughter in 2014 is projected to be the lowest since 1968.
As retail prices rose throughout the year, though, economists and cowboys alike worried that consumers would begin resisting beef.
But such worries have not materialized.
Packers Move to Value-Added Cuts
"We're experiencing a different beef complex today than we saw 10 or 20 years ago," says economist John Nalivka, president of Sterling Marketing in Vale, Ore. "The big packers are global companies, and they operate differently than they did before. We're seeing a shift away from packers marketing commodity beef to the marketing of value-added products."
Most packers now do additional processing on their beef, marketing hamburger patties rather than ground beef and offering value-added cuts such as flatiron steaks and petite steaks rather than chuck roasts. "The trim complex in a packing plant is now a profit center rather than a commodity bin," Nalivka says.
While Nalivka's observation of improved product offerings offers insight into consumer beef demand, it's a theory supported by K-State Research and Extension livestock economist Glynn Tonsor. "To date, beef demand has been robust," Tonsor notes. "There is no such thing as a price ceiling as demand curves are sloped."
Meaty Competition?
While consumer beef demand has remained strong throughout 2014, the supplies of competing meats–pork and poultry–were not plentiful enough to entice consumers down the aisle.
That may change next year. "We may see an impact in the first quarter of 2015 from the growth of available meat supplies (pork and poultry) that could increase the ability of U.S. consumers to shift meat purchases," Tonsor says.
Contrast that with a beef industry that will reduce supplies even further next year, according to Oklahoma State University livestock marketing economist Derrell Peel. "Steer and heifer slaughter is expected to decrease another 2 percent in 2015 which, depending on carcass weights, would contribute to another 1 percent to 1.5 percent decrease in total beef production," Peel says.
That may be a warning sign; retail beef prices have risen 20 percent this year and could continue to climb.  "Current retail prices undoubtedly do not fully reflect the impacts of declining beef supplies, even if production stabilized at current levels," Peel says.
High Prices Reshape Industry
Could demand challenges surface next year? "I strongly contend both supply and demand are combining to 'drive' record prices," Tonsor says. "I see 2015 as being another historic year for cow-calf producers. It may well be an above average year for stockers as well, but not likely as strong as for cow-calf producers. The feedlot segment is where I expect the largest pullback in returns, at least relative to 2014."
Nalivka agrees with that logic, adding that he believes this market has helped break down some of the contentious relationships between packers and producers.  "With value-added products, the packing industry has taken the next step beyond boxed beef, which was a revolutionary change in its day," he says. "I don't believe that packers want to beat prices down like they were able to a few years ago. It's not in their best interest because the industry can't stand the ripple effects."
According to Nalivka, the consequences of dramatically lower prices would be an industry suddenly shifting back into liquidation mode as older producers exit the business. "We're just starting to see expansion," he asserts. "I believe the packing industry sees the need to encourage production over the next couple of years."
The desire of packers and retailers is to build consumer demand and continue expanding the U.S. export market.  "The fundamentals are shaping up to make next year exceptional," Nalivka says. "Feed costs are low, forage supplies are greatly improved and demand is strong."