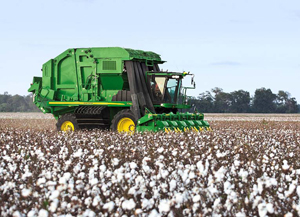 Editor's note: This is one of eight 2015 marketing outlooks, the AgWeb.com editors are providing to help you succeed and be profitable in the coming year. Please check back each Monday for another outlook.

Most cotton farmers have the luxury of growing other crops. Will they exercise that ability for 2015? Top cotton economists say it's definitely possible.
"Likely, we'll see producers in the Mid-South shift acres back to soybeans for 2015," says Don Shurley, professor emeritus of cotton economics at the University of Georgia.
That's because the Mid-South increased cotton acres in 2014 after several years of decline because of potentially better returns. Cotton was trading around 80 cents last year when farmers were making planting decisions. This year, Dec. 15 futures are trading more modestly, around 66-67 cents.
Darren Hudson, director of the Cotton Economics Research Institute at Texas Tech University, says similar shifts to other crops could potentially play out in other areas of the Cotton Belt, too.
"If we will see shifts, it will occur in South Texas and the Delta, and perhaps in Georgia from cotton to peanuts," he says.
Both economists agree the 2014 Farm Bill has had little impact on cotton farmers, at least for now.
"We still have a wys to go with base and yield decisions, program (PLC/ARC) election and finally enrollment," Shurley says. "Producers will have to decide on STAX by their normal sales closing date, but may not have to choose between STAX and SCO for 2015. My understanding is SCO will not be fully available for 2015.
Producers and landowners alike will need to adapt to the idea of no automatic direct payments coming in, Shurley adds.
"Everything will be up in the air," he says.
Hudson says educational efforts are needed because many farmers aren't fully aware of the choices they have.
"I still go to meetings where producers are unaware that there is no cotton program anymore besides the loan and STAX," he says.
Cotton is grown in dozens of countries across the world, but once again, China draws the most focus.
"Their policy changes and the impacts of the potential drawdown of stocks and reduced imports could have significant impacts on world price," Hudson says.
Don't forget about India, either, Shurley adds.
"India overtook China as the world's No. 1 cotton producer in 2014," he says. "In India and China, production is down in 2015, and the U.S. is also down. This should provide support for prices."
Shurley estimates the 2015 crop could ultimately trade between 65-75 cents. Prices now are built on a negative set of scenarios that are being overshadowed by the economic fundamentals of the 2014 crop.
"In reality, anything can happen," he adds.
2015 Marketing Outlooks
The editors at AgWeb.com are taking a look at experts' 2015 projections for corn, beef, wheat, hogs, soybean, cotton, machinery and dairy.