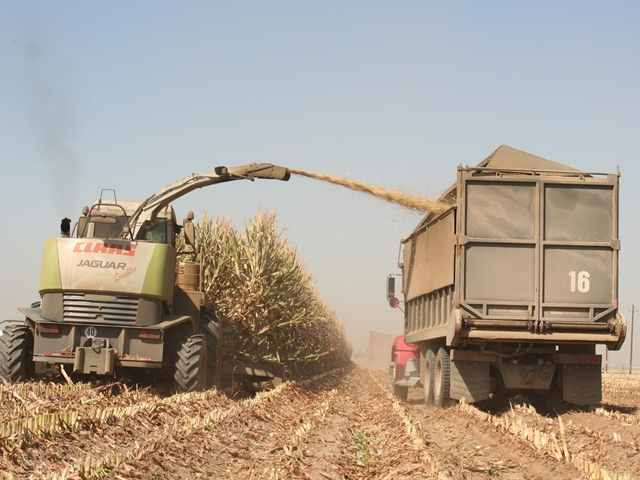 Machinery companies that cater to the livestock sector see down market as an opportunity.
Editor's note: This is one of eight 2015 marketing outlooks, the AgWeb.com editors are providing to help you succeed and be profitable in the coming year.
Time will tell. That's the mentality of the machinery industry and farmers moving into 2015. With commodity prices in a slump, the machinery market is facing a year of unknown production and sales, but the passage of Section 179 offers hope.
Section 179
Section 179 tax deduction was signed into law by President Obama on Friday, Dec. 19. The deduction allows farmers to write off up to $500,000 in capital assets purchases, such as farm equipment, instead of depreciating over time. The deduction can be applied for new or used equipment, but it must be purchased by Dec. 31, 2014.
"This will allow our customers to invest in the equipment they need to make the most out of the upcoming season," said Abe Hughes, Vice President of New Holland, North America. " They have worked hard all year and this is an opportunity for them to make that work pay off."
The market is likely to see a purchasing push for farmers and livestock producers who may have been on the fence about buying new equipment in 2014.
"Values on good used livestock-related equipment will soar higher through end of year," predicts farm equipment expert Greg Peterson, also known as Machinery Pete, who expects hog and cattle producers to be active shoppers this December.
Thanks to strong pork prices and record highs for beef, livestock farmers will have money to spend and tax liability to reduce as the year comes to an end. Other types of farm machinery may not be as hot, thanks to the level of investment that many corn and soybean farmers have made in recent years. "I don't know how much pent-up demand there is out there," said Paul Neiffer, the Farm CPA, who has been closely following the Section 179 legislation through Congress.
As relieved as farmers and machinery companies are about the Section 179 tax extension for 2014, they remain frustrated at Congress's short-term approach to the issue. "These aren't solutions that benefit farmers in some years and not in others; we need them every year on every farm," says Wade Cowan, a farmer from Brownfield, Texas, and the new president of the American Soybean Association. "So we encourage both chambers of Congress to come together and find a solution that extends these beneficial provisions for the long term. What we need is certainty in the tax code, not a guessing game."
Machinery Outlook
The leading machinery companies that primarily manufacture row crop equipment will likely cut production. However, machinery companies that heavily cater to the livestock sector see the down market as an opportunity.
"What we are experiencing is the headwind and tailwind of the marketplace for 2015," says Leif Magnusson, Claas president, North America.
In fiscal year 2014, Claas had a record year in equipment sales, specifically self-propelled foragers. "Since we are not a market leader, we don't see too many changes in our production and sales levels," Magnusson says.
The Agrievolution Alliance global network, which consists of leading ag machinery companies, says manufacturers are less satisfied with their current business situation than they have been in the past four years, based on responses to its latest biannual survey. Only 18% of the companies surveyed described their business situation to be "good" or "very good." In April, it was closer to 50%. The corresponding Agritech Business Climate index dropped 33 points from April to -7 on a 100 to -100 scale. This time last year, the overall climate index was 32.
The drop in corn and soybean prices and the resulting projected drop in net farm income by 23% compared to the past year is negatively impacting larger horsepower tractors and combines the most, says Charlie O'Brien, senior vice president of the Association of Equipment Manufacturers. "In the row crop area, some of our manufacturers suggest the market might be down 10% to 15% again next year with the first six months seeing the biggest decline from 2014 levels," he says.
The North American market looks strong moving into 2015 compared to other countries. According to the Agrievolution Alliance survey, the U.S. will face lower order intake, but some companies continue to experience high national demand.
For example, compared to 2014, Krone Chief Operating Officer Gary Thompson says his company will
increase order intake by 10%. Anticipating less of a hit compared to companies that manufacture row crop equipment, Krone plans to expand its workforce in North America, increase its marketing department and decrease the size of sales territories for greater sales response.
"It's possible the hay and forage equipment market might slightly decrease in 2015 compared to 2014. However, if it does, we don't expect it to be by much," Thompson adds.
After several years of an up market, machinery makers will be riding out the down market and making the appropriate adjustments in output. "The long-term fundamentals for the industry are still very good," O'Brien says. "We plant and harvest food. That fundamental will never change. The equipment market on a worldwide basis has a bright long-term future."
Is there anything on your machinery shopping list? Let us know on the AgWeb discussion boards.
2015 Marketing Outlooks
The editors at AgWeb.com are taking a look at experts' 2015 projections for corn, beef, wheat, hogs, soybean, cotton, machinery and dairy.