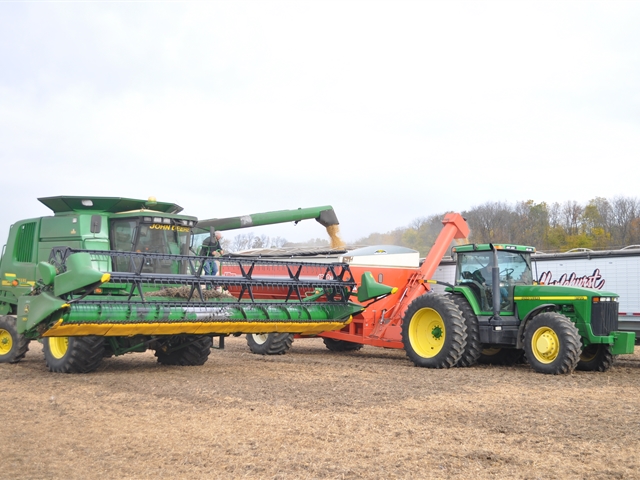 Editor's note: This is one of eight 2015 marketing outlooks, the AgWeb.com editors are providing to help you succeed and be profitable in the coming year. Please check back each Monday for another outlook.
Soybean demand is robust and firmly in the bullish camp but the highest soybean supplies in history is outpacing them. So for the first time in years, the price outlook calls for red ink for soybean producers who haven't pre-sold. Still, old-crop prices have held relatively tough, more than $1 higher than October's lows.
The outlook for the next few months is less buoyant, even with last week's brisk export sales. Central Iowa cash soybean price quotes on Dec. 12 were running around $9.90 for old crop but less than $9.50 for 2015 soybeans. That's more than $1 to $1.50 per bu. less than breakeven costs calculated by Iowa State University.
Because of significant downside risk, some analysts suggest early pricing of 2014 soybeans, and even 2015.
"Soybeans will respond quickly to a weather concern or political issue," says Frayne Olson, ag economist at North Dakota State University. Should these occur and it's rally time for soybeans, book some sales, he suggests.
"With a good South American crop, take $1 off today's futures to $9 per bu., and with good crops—following record plantings—in both South America and the U.S., 2015 soybean futures could drop as low as $8," Olson says. "That would put cash prices near $7.50. That is worst case, but it illustrates the downside risk."
However, Olson says that most likely, soybeans will trade in the $9.50 to $10.50 range into January. Any number of factors could impact prices, including major USDA reports this winter, Brazil's weather, a possible slowdown in global economic growth and questions about China's economy. All this uncertainty indicates to Olson that producers may see two pricing windows between now and spring, beginning late January.
This winter, all eyes will be on Brazil. Rabobank looks for farmers there to plant 5.5% more soybeans than last year and a continued buildup of stocks. Rabobank says that global stocks-to-use is poised to reach an all-time record of 31% by September 2015, a steep increase. Some think it could be even higher.
"Our export sales are huge but they are likely to slow down considerably," says Darrel Good, University of Illinois ag economist. But lately, "China has been buying the heck out of soybeans." Rabobank is predicting that China's soybean crush will increase 6% in 2015, the same as the past two years.
Good looks for soybeans to edge lower from today's values, with July futures likely to trade in the $9.50 to $9.75 per bu. range in the first quarter of 2015. He views that period as a pricing opportunity. "Sell beans earlier than corn," he advises.
Chad Hart, ag economist at Iowa State University, is looking for a gradual decline in soybean prices moving forward. His trading range from now to spring is $9.50 to $10 for old-crop soybean futures, but closer to $9 for 2015 soybeans. "I recommend holding off a while on marketing 2015," Hart says. "We're still seven months away from planting. A whole lot can change." Such as the annual corn/soybean acreage battle.
One positive for soybean exports is that unlike corn, U.S. soybean exports will not likely be impacted by the strongest U.S. dollar in years, Hart says. "China has a fixed exchange rate," he explains. As a result, China is not facing higher soybean costs due to the dollar's strength.
As much as two-thirds of 2014 soybeans are unpriced, says Dave Fogel, vice president, Advance Trading. But economics don't favor holding soybeans with only a 17-cent carry from now to July, well below storage costs, he says. Because of this and significant downside price risk, he suggests selling beans and re-owning it with call options for upside protection. Cost for a soybean put with an $11 strike price was in the 30- to 35-cent-per-bu. range last week. For new-crop soybeans once 2014 is sold, he suggests downside protection with put options.
What are your top concerns for corn in 2015? Are you moving acres out of corn and into other crops? Let us know on the AgWeb discussion boards.
2015 Marketing Outlooks
The editors at AgWeb.com are taking a look at experts' 2015 projections for corn, beef, wheat, hogs, soybean, cotton, machinery and dairy.