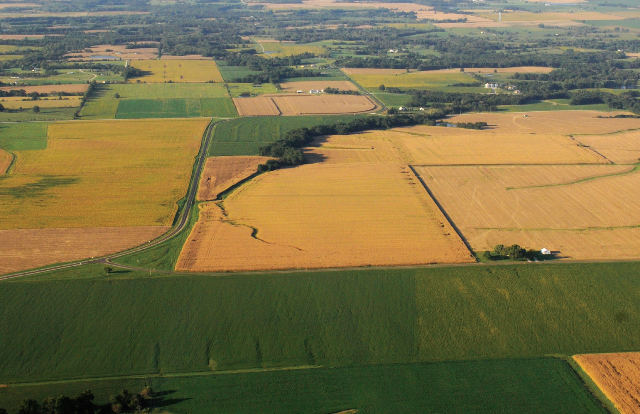 Cash rents for prime farmland held tough for 2014 despite lower corn prices, but that's about to change.



"Rents that will be negotiated this summer and fall are likely heading lower for 2015," predicts Gary Schnitkey, University of Illinois ag economist. The obvious reason: Today's average cash rents are causing a cost-price squeeze in the wake of the crash in crop prices. "Farmland rents will likely be $10/acre lower in 2015 to start a three-year adjustment process," he says.

Current average rents for Illinois are $280/acre with extreme cases of $500. Three years from now, Schnitkey expects average Illinois rents to be $55/acre lower, at about $225. "Everyone wanted to see if $4 corn was real," he explains. In fact, today's futures prices have corn beneath $4 for some contract months--the lowest such prices in several years.
---
Hear Dr. Matt Roberts of The Ohio State University share his 2014 harvest outlook on AgriTalk radio:
---
The cash rent story is the No. 1 takeaway from Schnitkey's analysis of 2015 Illinois crop budgets released this week. Expected returns over costs aren't enough to pay for average cash rents, let alone provide a return to operators, too. For high-quality central Illinois farmland, land and operator returns for 2015 come to $251 for corn following soybeans (lower still for corn following corn), but current cash rents for high-quality land in central Illinois are $295. At this cash-rent level, producers would show a loss of $44/acre.

These numbers suggest that something has to give.


"Just as cash rents rose in recent years as a result of increases in operator and land returns, now cash rents should decrease because of lower return projections," Schnitkey says.

The 2015 budgets project corn prices of $4.20/bu., identical to 2014, and 196-bushel yields, for a gross return of $833/acre. On the bright side for producers, direct costs of $384/acre are projected to be lower than in 2014 due almost exclusively to the expected decline in fertilizer prices. Nutrient costs are projected to be $18/acre lower in 2015 than this year, and a $48/acre drop from 2013.

Schnitkey forecasts no change in pesticide costs. He foresees a $5/acre bump in seed costs. Machinery costs are also projected somewhat higher for 2015.

The Illinois budgets also show that corn, despite projected losses, still bests soybeans for 2015 by $26/acre. Expected soybean prices for 2015 are $10.50/bu., with yields of 57 bushels/acre, for a return of $225. Because both corn and soybean returns are expected to be negative given his assumptions, Schnitkey projects a reduction in both corn and soybean acres for 2015.

But the averages don't tell the entire story because each farmer's situation is different. For example, this spring, some farmers forward-priced a percentage of their anticipated 2015 corn at about $5/bu. At that level, returns would be $149/acre higher from crop revenue alone, thus providing a profit, even at 2014 average cash rent levels. In addition, the budgets only use trend yields, meaning yields above those levels would boost returns.

Meanwhile, new Iowa State University budgets show that corn following corn returns show a much larger hit for 2015, with projected negative margins of $121/acre for Iowa, compared to a modest $5/acre loss for corn following soybeans. Soybeans following corn show a negative $21/acre margin.

Production costs are projected at $4.99/bu. for corn following corn, $4.28 for corn following soybeans and $10.92 for soybeans after corn, factoring in all costs. Cash rent is projected at $276/acre.
---
Click here for more news and videos from Top Producer's Power Hour.