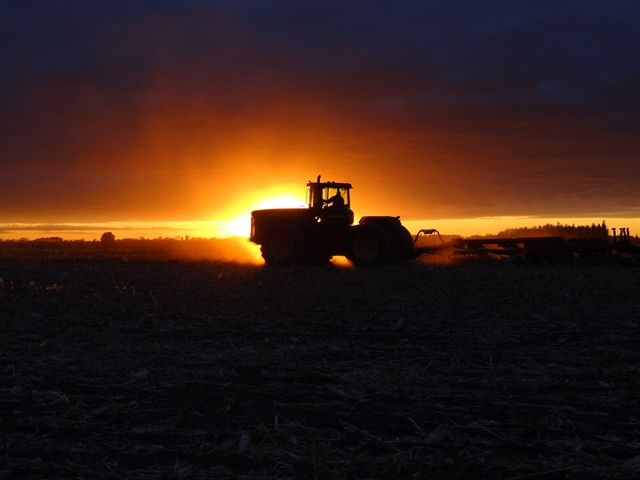 Machinery companies consider additional acquisitions in down market
Editor's note: This is one of 10 market outlooks the AgWeb editors are providing to help you succeed and be profitable in 2016. Please check back each Monday and Thursday for another outlook.
Farmer pocketbooks take a hit when they collectively harvest record yields—and the ripple effect eventually lands on the equipment manufacturing floor and dealer lots. USDA projects net farm income in 2015 to be the lowest since 2006, with a drop of nearly 53% from the record high in 2013.
With a decline in manufacturing, more employee layoffs and surplus inventory on dealer lots, equipment companies are working in stride with the current environment. Rabobank analysts foresee equipment sales to be down through 2016 with stabilization likely in 2017, at the earliest. Although this economy is challenging, it presents opportunities for some in the machinery industry.
Since the 1980s, global consolidation has resulted in a market of only a handful of competitors. The six major players based on 2014 revenue are: Deere & Co., CNH Industrial, AGCO, Kubota, Claas, and Mahindra & Mahindra. Deere & Co. and CNH Industrial have similar total revenue; however, Deere & Co.'s, agriculture equipment sector is 40% larger.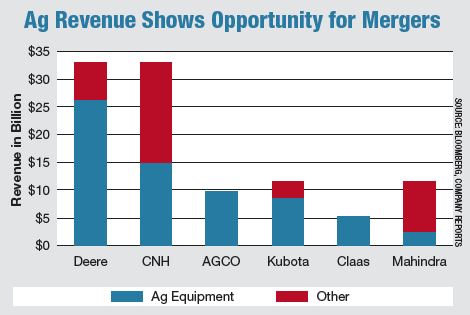 The six major global machinery giants differ in revenue and scale in the ag market, which might prompt future acquisitions.
Excluding market leader Deere, Rabobank analysts predict a merger is likely among the five other largest original equipment manufacturers in order to challenge Deere's rank.
Farmers are more mindful of the changes in the marketplace after John Deere announced plans to acquire Climate Corporation's Precision Planting and data sharing across platforms and Monosem, the European market leader in precision planters.
The environment continues to be ripe for additional acquisitions. Rabobank analysts predict two scenarios to play out in the next 12 to 24 months in North America:
Acquisitions of smaller specialty harvesting and implement manufacturers by the top five players. These manufacturers typically have an annual turnover of less than $1.5 billion.
 
Horizontal mergers and acquisitions into adjacent markets will be less correlated with crop prices, such as grain storage and treatment; feed processing; chemical blending; animal storage; and protein production systems and milking equipment.
Only time will tell if the merger and acquisition scenarios materialize. In the meantime, Rabobank predicts tractor and combine sales will fall by 25% in 2015, 10% in 2016 and 2.5% in 2017, with expected positive growth of 5% in 2018.
Consolidation isn't the only hot-button trend in the machinery industry. Equipment, precision and technology companies are forming partnerships to better serve farmers by providing more products and services.
As shown in this chart, machinery companies aren't the only ones in the buying and partnering mode. Companies such as Ag Leader, Raven, Trimble and Topcon continue to expand their portfolios and work with major machinery companies to offer their products and services in cabs across the country.
With the likelihood of future acquisitions and partnerships, don't be surprised if machinery colors blend in the years ahead.