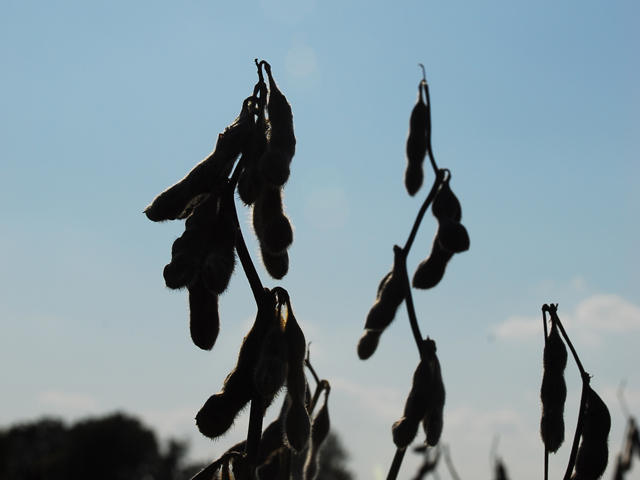 Editor's note: This is one of ten 2016 marketing outlooks, the AgWeb.com editors are providing to help you succeed and be profitable in the coming year. Please check back each Monday and Thursday for another outlook.
Ag economists are clear on the three biggest factors affecting the U.S. soybean market in 2016: China, China and China.
"First and foremost are the concerns about the slowdown in China," says Chad Hart, ag economist at Iowa State University. "China represents a sizable majority of our soybean exports out of the U.S., so any sort of slowdown in China definitely has a ripple effect in the soybean marketplace."
China's economic growth rate shrank to 6.9% in the third quarter of 2015—a steep decline from the breakneck double-digit growth rates of prior years. Exporters are worried that China's slowing economic growth could possibly translate into weaker food and industrial demand for soybeans and fewer imports from the U.S. In the 2014-2015 marketing year, China represented just over half of all U.S. soybean export sales.
Chris Hurt, ag economist at Purdue University, agrees that the economic slowdown in China could be a major headwind to U.S. soybean exports. Potentially weighing further on the U.S.'s competitiveness in the export market, he adds, is the strong value of the U.S. dollar. The dollar index as of last week was valued at 99.168 versus 87.642 a year ago.
"Exchange rates look like they're going to be difficult," Hurt says. "There's a higher probability that the Fed will start the process of increasing interest rates next year, and increasing interest rates would tend to push the dollar up."
Meanwhile, Brazil—the U.S.'s chief competitor vying for China's soybean export business—has seen a weakening of its currency, the real, which makes its soybean exports cheaper.
"The real is down about 40% against the dollar versus a year ago. China's currency, the yuan, is also about 40% stronger relative to the real, but it's about 4% weaker relative to the dollar," Hurt explains. "So, the dollar today buys 4% less in the United States, but it's actually a little over 40% more in Brazil. These are not just headwinds. This is a hurricane blowing in the face of American soybean farmers."
China also has plenty of places to buy soybeans, Hart adds. With the world growing two back-to-back record soybean crops, the U.S. has more export competition. USDA figures world soybean production in 2013-2015 was 318.95 million metric tons, with 319.61 million metric tons projected for 2015-2016.
"You've got world production of soybeans at record levels over the last couple of years, so there are just more soybeans out there to be had worldwide," he says.
Domestic demand, meanwhile, has been a bright spots for U.S. soybean farmers with the expansion of livestock numbers in the U.S. increasing feed demand for soybean meal, Hart notes, while continual growth in biodiesel increases demand for soybean oil.
The wild card for 2016 remains El Nino, says Hurt, where warmer and drier weather could reduce South American soybean production or the Malaysian palm oil crop and send more export business to the U.S. Further out into 2016, El Nino could revert into La Nina and bring wetter than normal conditions to those regions, he adds.
Heading into 2016, U.S. soybean farmers have been reluctant to sell their recently harvested crop at prices below $9/bu., as they wait out for better marketing opportunities, Hurt says. But, holding out for better prices could be a long wait with the futures market currently offering prices that are not much better in the months ahead through 2016.   
"There are always these uncertainties out there," warns Hurt. "But, as some in the market say, hope is not a strategy."