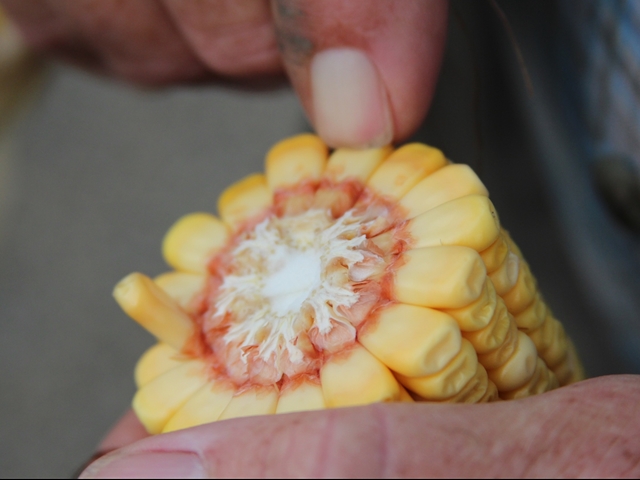 The king of the crop world might lose ground in 2017. Weak prices combined with more appealing profits on alternative crops means corn acres could be down next year.
"In August, we put out projections that indicate we expect to see a drop in corn acreage and a jump in soybean acres in 2017," says Pat Westhoff, director of the Food and Agricultural Policy Research Institute (FAPRI) at the University of Missouri. "If you look at prices today it says plant beans, don't plant corn."
Westhoff warns, however, that input prices might reduce the advantage of soybeans. "Corn looks better when fertilizer prices are lower," he says. "It also gets more complicated when you look at futures, corn prices look better in December 2017 than they do today."
This isn't the first year farmers have taken a harder look at swapping out corn acres for soybeans, either.
"Farmdoc showed this is the fourth year in a row where soybean profits beat corn profits in Illinois," says Matt Bennett, corn and soybean farmer and owner of Bennett Consulting. "But now input prices have affected corn profitability and rotation is so important. I'm encouraging producers when planning for next year not to just make the assumption that the best thing to do is plant more soybeans."
Bennett says it's critical to pencil out the math with consideration for corn's significantly lower input costs, including fertilizer, and compare overall profitability to soybeans before making a decision.
Although lower inputs might improve opportunity for profitability on corn, FAPRI research still predicts a drop in corn acres and a jump in soybean acres. In August, the group released predictions that corn will drop from 94.1 million acres in 2016 to 90.6 million acres next year. Soybeans should jump from 83.7 million acres to 85.7 million acres, meantime.
Prices could improve in 2017. "If you look at the numbers we put out in August, we're in the high $3.00 range, but we don't get to $4.00 in the next couple years," Westhoff says. "But, as always, we'll have surprises."
Corn likely won't climb as high as $5 without a massive drought, but Westhoff still expects price recovery with more normal weather conditions.
"This would lower average yields and that would help work through the massive stocks we've built up here and worldwide," he says.
The U.S. has its own massive supply, but it's not the only country in this situation. Westhoff says China is immensely important to watch.
"They have changed policies to allowed corn prices to drop in the country," he says. "That's positive for demand in the long run, but in the near term it means they're going to be working to draw down their large government stocks. So it's unlikely they'll be a major importer in the short run."
In South America, Westhoff says farmers should pay attention to weather and policy and how it'll affect worldwide supply.
Leave emotion at the door when marketing in 2017. "The most important thing a producer needs to take from 2016 to 2017 is not so much the mistakes we make in marketing, but why are we making decisions this way," Bennett says. "Our priority needs to be locking in profitability on our farm when it's there and managing risk when it falls to levels we don't expect."
It's important to go into the year with a plan, know breakeven levels for corn and soybeans and avoid putting all eggs in one price basket, he says.
"Start [selling] in small increments before you know production and get more aggressive once production is known," Bennett adds.
As always, there is risk in marketing, so you might book your crop on the highest price, but there's a chance you might miss out on opportunity as well. Domestic and foreign weather and stocks can impact prices quickly.
 "Don't make marketing plans based on any single current market projections—think about what you'll do in many situations and consider downside risk," Westhoff says.
The editors at AgWeb.com are taking a look at experts' projections for a variety of commodities in 2017 to help you succeed and be profitable in the coming year. Tune in periodically over the next six weeks as we add outlooks for corn, wheat, cotton, cattle, machinery and more. Read all the outlook pieces here.