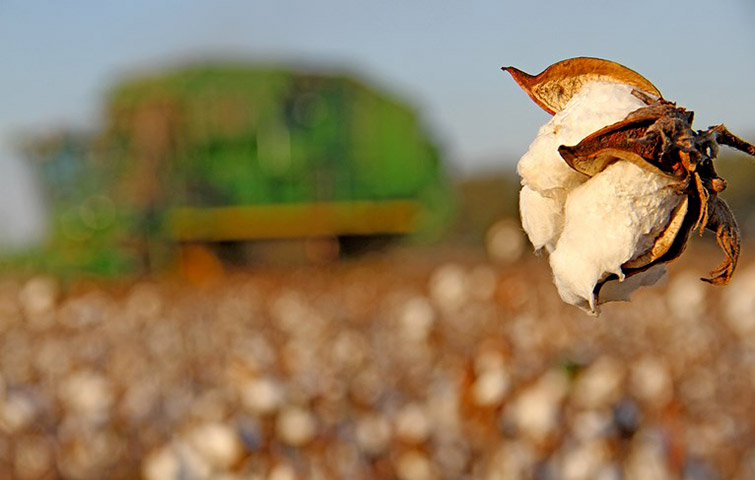 Despite a tepid forecast, cotton growers won't "spit the bit" in 2017, particularly with no safe haven crop in sight, but rice producers may be in for a significant acreage dip.
Cotton
The echo of a 17% jump to 10 million acres in 2016 is fading fast for the U.S. cotton industry. With prices perpetually caught in the doldrums, shifts between 65 to 75 cents make for a sub-profitable cash price -- the third year of inadequate or subsistence level pricing for growers. John Robinson, Texas A&M University Extension cotton economist, doesn't see much cause for change, and expects expect Dec. 17 futures to trade between 63 and 75 cents.
"We have a cluster of financial stress, carryover debt, banking concerns, and production problems in some areas, and a lot of growers, at least in Texas, can't really switch to grain," he says.
Signals from the futures market indicate scant change in demand. In 2016, China whittled down its 50-million bale reserve by shaving off 11 to 12 million bales, yet didn't crater the market. However, Robinson expects China's influence to remain in 2017, depending on how much of the reserve they unwind: "We've been in a weak demand situation for several years and may not get pulled out soon. All said, I expect prices will stay in the current range."
Flat cotton prices and relatively weak grain prices may mean growers will hold the line on cotton acreage in 2017.
"Sometimes you can ease price pain by packing on pounds and good grades, but most growers are already stretching their crop to the fullest," he says. "Financial stress is a fair description for cotton in 2017."
Rice
Rice prices tottering in a see-saw motion don't bode well for 2017. Two of the biggest sales of the 2016 marketing year registered in November, but didn't provide fuel for a rice market fire: Prices haven't responded and trends can't find traction. As jumps to $10.30 cwt become falls to 9.70 cwt, rice prices are trapped in a cough-and-sputter cycle.
Jarrod Hardke, rice Extension agronomist with the University of Arkansas System Division of Agriculture, expects Mid-South rice acres to fall by 15% to 20% in 2017. He forecasts Arkansas at roughly 1.2 million acres; Missouri at 200,000 to 220,000; Mississippi at 180,000; and Louisiana at 420,000; for an approximate total of 2 million Mid-South rice acres.
Hardke is hoping for sudden market interest, but doesn't know where it might surface. "We already know our domestic demand, but we're looking for something to pop up on the international market," he says.
From a grower perspective, Hardke believes 2017 will be another year to weather the storm. Tremendous acreage in the Mid-South is uniquely suited to grow rice, and when rotated to other crops, doesn't hit high yields.
"The market for rice growers in 2017 isn't great," Hardke adds. "I'd say everybody is disappointed and I don't see many positive outlooks. Most people are just hoping to tread water."
The editors at AgWeb.com are taking a look at experts' projections for a variety of commodities in 2017 to help you succeed and be profitable in the coming year. Tune in periodically over the next six weeks as we add outlooks for corn, wheat, soybeans, cattle, machinery and more. Read all the outlook pieces here.