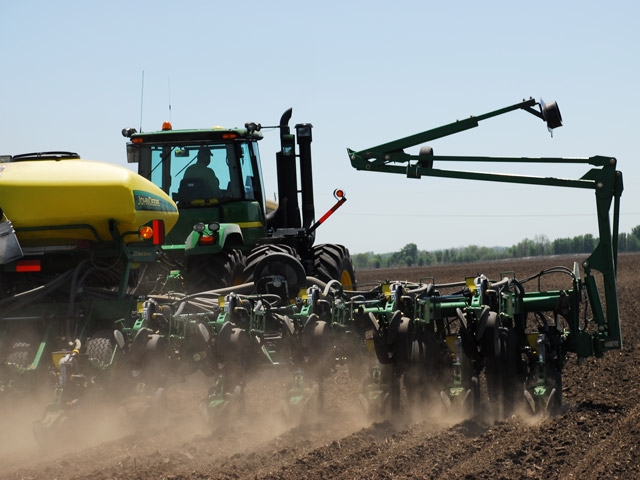 Although economics in the heart of the Corn Belt favor a switch to more soybeans and less corn, experts in the I-States of Illinois, Indiana and Iowa say rotational considerations and core crop competencies will keep the shift from being too dramatic.
"I hear farmers gearing up to try to plant more of both crops," says Chad Hart, ag economist at Iowa State University.
Changes in trade policy aren't high on most observers' lists of potential game-changers. Close to 50% of U.S. soybeans and more than 15% of U.S. corn is delivered to export markets, but any reworking of trade deals is likely to extend beyond spring planting.
"It's a concern, but I don't think there's anything tangible there that farmers are going to change their production plan based on what we're seeing right now," Hart says. "The trade issue looms over all of the crops."
Here's a look at how experts in the I-states are making sense of the planting outlook for 2017.
Illinois: A Modest Move Toward Soybeans
The state of Illinois had exceptional corn yields of 197 bu. per acre in 2016, and while harvested acreage fell from highs set between 2006 and 2010, it proved to be a record-setting year, says Gary Schnitkey, ag economist at the University of Illinois. Meanwhile, soybean yields broke records with a state average of 59 bu. per acre.
"I would expect changes in Illinois production—a shift from corn to soybeans," Schnitkey says. "Those shifts are probably going to be pretty modest."
The shift is more likely to occur in the southern part of the state, where the average crop mix is two-thirds corn to one-third soybeans, Schnitkey says. Farther into central and northern Illinois, changes are likely to be less pronounced. Even though soybeans are projected to be more profitable than corn through the end of the year, he says, the greatest switches likely will happen in the western Corn Belt and Great Plains.
If the soybean switch is larger than expected, the economic ripples out of the I-states would be substantial.
"If Illinois and Iowa farmers begin making shifts, other areas will begin making shifts as well, and that could put downward pressure on soybean prices," Schnitkey says.
Indiana: Consider Rotational Needs and Get a Marketing Plan in Place
Soybeans look more appealing than corn in Indiana, too, says Craig Dobbins, ag economist at Purdue University. Yet the question U.S. farmers there and in other states should ask is: How should my crop rotation affect planting decisions? That's especially true for farmers who might be considering planting soybeans in the same field for the second straight year.
"You get more disease pressures when you do a monoculture," Dobbins cautions. "I think there are strong agronomic reasons to have some sort of rotation."
Farmers in the southern part of the state, in particular, will continue to double-crop soybeans after wheat as the season progresses, Dobbins predicts.
He urges producers who plan to invest more heavily in soybeans to get a commodity-marketing plan in place so their decision will still be profitable at harvest.
"If you're changing your proportion of corn and beans because in the spring [the board] says you ought to plant soybeans rather than corn, I think you need to take some action to make  sure that kind of relationship is going to materialize in the fall," Dobbins says. "It could turn out, just given market forces, that it may not have been the smartest thing to do because everybody else did it."
Iowa: Hope for Price Gains and Weather Wild Cards
As Iowa producers look ahead to planting more soybeans in 2017, they are also looking behind to the 2016 season and the $3 run-up in soybean prices that occurred from March to July, Hart says.
"I think farmers are hopeful they can see another run like that in 2017 if the international demand runs as strong as it has been," he says.
As with any other year, weather will be a key factor. If planting conditions are favorable, Iowa can expect to see more corn than spelled out in USDA's Planting Intentions report on March 31, Hart says. If wet conditions delay planting, Iowa farmers likely will shift to more soybeans.
"When I talk to farmers, especially in the I-states, they're going to try to hold their corn area and increase on the soybean side," Hart says. "Don't be surprised if they increase corn, as well, if weather cooperates."