Gather intel to craft a creative and disciplined marketing plan
Acreage question marks, trade uncertainty and lingering 2019 production issues, put a higher-than-normal premium on astute grain marketing. We asked eight analysts to provide their best estimates on price direction and market strategies you can employ in 2020.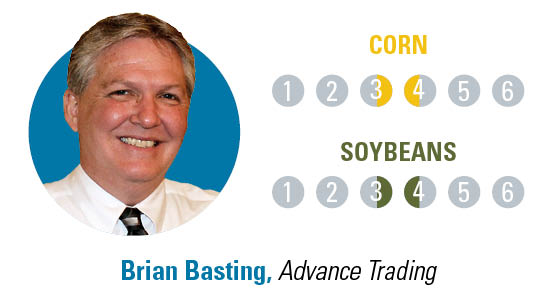 Closely monitor weather conditions in Brazil and Argentina. Any shortfall in corn or soybean production could boost U.S. exports and support prices. Pay attention to the increase in U.S. corn and soybean acreage after the planting challenges from 2019. 
A large increase and trend yields could send prices lower. 
When looking at geopolitical factors, the U.S.–Mexico–Canada Agreement (USMCA) trade deal might open up export opportunities, which would provide market support. 
The ongoing development of aggressive exports from the Black Sea region might weigh on rally attempts as well. 
It's important to lock in a floor for projected 2020 production but also maintain marketing flexibility. The market could offer a pricing opportunity well before crops are planted, or at least prior to harvest. All too often producers are not willing to take a small profit, yet they take large losses. 
Here are a few marketing tools to explore. Options establish a floor for anticipated (or realized) grain production and provide the opportunity to participate in price rallies. 
A key advantage of buying a put option is if a crop problem surfaces, bushels are not committed to be delivered. It is also prudent to add cash sales to your portfolio in addition to the long option purchases.
---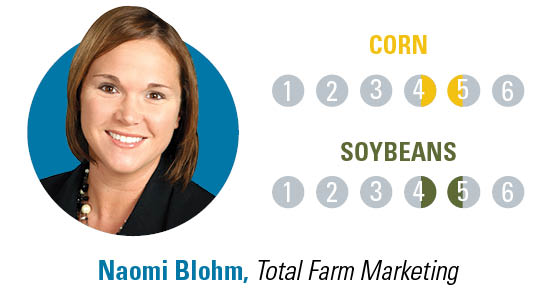 The battle between lower production due to poor 2019 crop conditions and the potential of high 2020 acres for corn and soybeans will be the big event this year. My suspicion is on every quarterly crop report, you will see corn supplies dwindle due to low test weight. 
Watch for the seasonal price tendency for corn and soybeans (a rally into early winter followed by a sell off into May). In the first five months of 2020, new-crop grain prices will have little incentive for any rally, due to the perception American farmers will plant copious amounts of corn and soybeans. If true, and if trend-line yields are hit, ending stocks will swell. 
Be ready to smartly market in two different crop scenarios:
Old crop. If you make cash sales, be open-minded to reownership strategies with call options. If corn production is smaller than anticipated due to 2019 issues, this could cause a price rally.
New crop. Know your grain elevator's cash marketing tools. Look to forward contract, set basis contracts or use hedge-to-arrive contracts. On unpriced bushels, consider put options to give yourself a price floor. If we do not have dramatic weather issues this year, carry-
out levels will swell, resulting in lower prices come harvest. 
---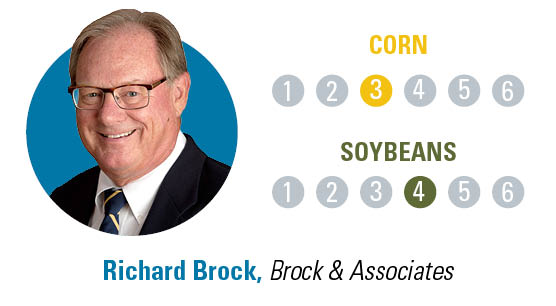 The three market factors to watch are:
Trade with China (tariff settlements).
African swine fever (ASF) outbreaks. 
2020 corn acreage. 
ASF is bullish for the pork industry with spillover buying for poultry. But with 45% of the swine herd gone in China, how many soybeans do they need to crush for meal? 
Strong corn prices between now and planting will encourage high U.S. acreage. If prices stay under $4, we anticipate 94 million corn acres. If prices near $4.50, acreage could hit 97 million. The higher the market goes between now and spring, the lower it will be at harvest. Carryover will likely jump to over 2.2 billion bushels. 
In the case of corn, be aggressive in pricing above your break-even level. In soybeans, I would not be as aggressive. 
For tools, consider cash contracts, hedge-to-arrive contracts, futures and options. Be sure you're comfortable with the tool.
---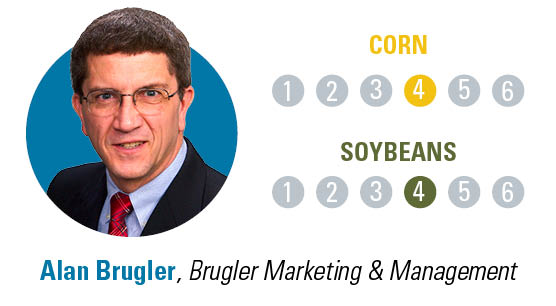 Increased ethanol and DDG exports are a wild card for corn demand. Corn exports should improve in the first half of 2020. Increasing production from South America and the Black Sea region is a threat to exports. 
A resolution on trade barriers would lower effective prices to end users. Tighter stocks-to-use ratios in 2020 also support higher grain prices, but a big U.S. crop could take us back down. 
With tighter stocks-to-use ratios, opportunities should exist 30¢ to 40¢ above breakevens. 
Due to a historically strong basis, basis contracts and cash sale/reown strategies are more attractive than usual. Hedge-to-arrive contracts and outright hedges do still have a place for price risk management; however, earning carry will be tougher. 
Have your adviser compute 12-month price targets given fundamental and technical information. Get busy selling when you're in the top 20% of that range. Use puts when you don't want to believe the technical sell signals. News is always the most bullish at the top. 
---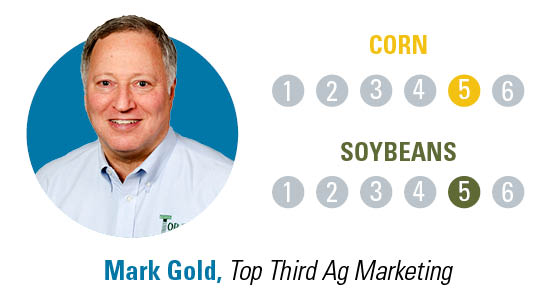 The No. 1 supply-and-demand factor to watch is Chinese demand. If the Chinese live up to their stated intentions, it is a possible game changer in corn and soybeans.
The biggest global factor impacting markets will be the U.S. election. A change in the presidency will have a major impact on farm policy. If President Donald Trump is re-elected, I assume he will try to force the Chinese to comply with the agreements. 
I believe 2020 could see a demand-led rally pull corn and soybean prices out of the doldrums.
I have said it 100 times, breakeven has less to do with marketing; it is really about efficiency. The markets do not care if a farmer is profitable. However, breakeven is one of the best means of understanding the efficiency of a farmer.
As usual, I recommend using options to manage your price risk. If this year is explosive, and you are short futures, you will have to be prepared to shell out margin call money and potentially leave great grain prices on the table. 
My best advice is to keep the price upside open this year, by purchasing put options to protect the downside. 
If you do make cash sales, I would not hesitate to reown those bushels with a call option to keep the upside open.
---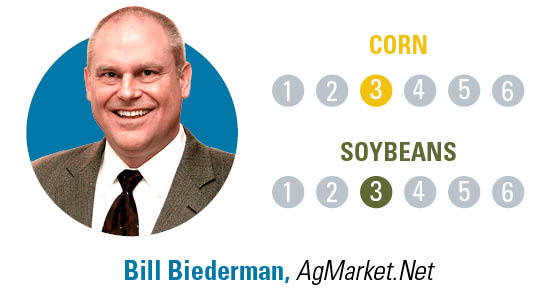 Trade policy is everything to agriculture. A reversal in U.S. trade policy from protectionist to progressiveness should reverse us from demand destruction to demand driven. The major risk is if one party backs out of trade progress. 
U.S. farming operations should return to profitable levels over the next few years given a positive trade and policy environment. Until these agreements are successful, we face a volatile environment. Additionally, we're in an election year, which typically adds some spice to the trade. 
Farmers should have locked in input costs for 2020, saving about $40 per acre from last year. We suggest locking in 50% of actual production history in the $4.06 area for corn and $9.65 for soybeans with affordable call options against half the position. 
This can guarantee a $50- to $100-per-acre profit with 50% locked in if the market goes down but only 25% sold in an up market. We look to bump sales in the spring/summer or on profitability. 
With good growing weather and increased acres, it is unlikely a rationing environment will be necessary. 
2020 is not likely to be a barn burner, but given a chance for U.S. ag to compete in the world markets, we are in a better position than 2019.
---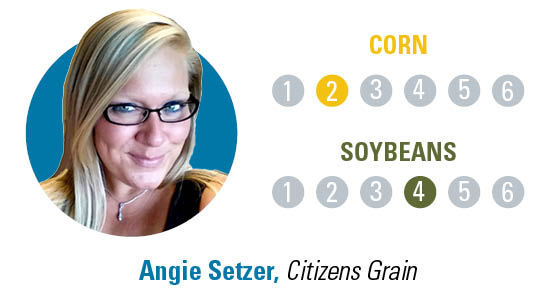 I am watching production outlooks for both North and South America more than anything else, as it has become relatively clear global demand growth has plateaued. 
Currency moves will likely be king in 2020, as governments and central banks struggle with the correct approach to fiscal policy to keep inflation in check, without choking off economic growth. 
A competitive global market structure in commodities means currency moves will likely play a large role in who gets the export business without supply disruption. 
Covering downside risk at or slightly above breakeven is imperative. Coming off a short 2019 crop could mean volatility if we see a smaller-than-expected crop out of either hemisphere. 
At the same time, any significant growth in production could result in minimal pricing opportunities this growing season.
Do not get married to the idea basis levels have to remain the same. If you can lock in basis at better-than-historical levels, be ready to act. Your local supply-and-demand picture could look different a year from now. 
Talk to someone you trust and learn about options. Gain an understanding of what types of private insurance products or OTC structures could work on your farm.
---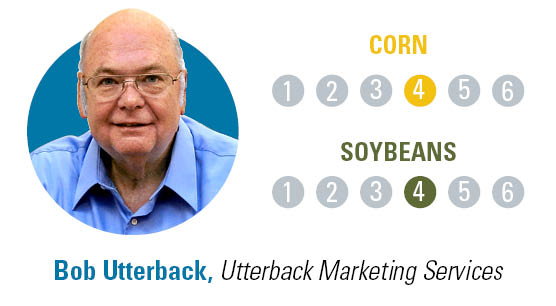 As plans for 2020 are made, several questions persist. Last year we learned corn and soybean seed, along with aggressive production, resulted in better-than-expected yields. A normal growing season could send corn yields near 180 bu. per acre (up from last year's 167 bu.), and soybean yields to 50 bu. 
Supply is on the rise; stocks are adequate, and demand must be proven. The real bullish potential is likely two seasons away and even then, it will take a major weather reduction event in a major production region. Don't be too hopeful, and store excess corn and soybeans into summer. 
It will be difficult for December 2020 corn to top $4.20 and November 2020 soybeans to top $9.80. Here are my ideas:
Corn. Sell December 2020 corn between $4.10 and $4.25, but with flexibility. Use in-the-money puts and a roll-up strategy or sell cash and buy calls. I lean toward buying deep-in-the-money long puts to reduce time-value decay and roll-up every time the market goes up 10¢. 
Soybeans. Buy at least $1 in-the-money soybean puts and roll-up 20¢ in strike price at 8¢ premium. I prefer over-cash sales. 
Many get too bullish and can't pull the trigger in supply-driven bull markets. This is a big-time risk in 2020.
---
Read more from Top Producer.