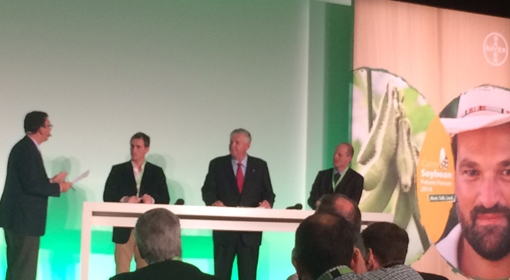 Every corner of the world has its own unique obstacles to overcome when it comes to crop production. Weather aside, representatives from three countries shared what they see as their area's biggest challenge for corn and soybean production.
Argentina: Political and Infrastructure Issues
In Argentina, Federico Bert, says the top obstacles are political and infrastructure issues. Bert represents AACREA, which is the Argentina Association of Regional Consortia for Agricultural Experimentation, a collaborating group for the country's farmers. Specially, he says roads and highways are biggest infrastructural hindrance inhibiting expansion and profitability for Argentina farmers.
Political unrest, theft and extortion are also hurting farmers' potential in Argentina, which is the world's third-largest exporter of corn and soybeans. Thieves target trucks carrying grain. While data on agricultural crime isn't available, police and port authorities say incidents are on the rise, affecting deliveries to grain handlers.
Belgium: Proving Farming is Sustainable
Belgium farmers, as well as their European Union counterparts, are constantly trying to show agriculture in the country is sustainable, says Alexander Doring, secretary general at European Feed Manufacturer's Federation in Belgium. He says the market demands "responsible production," and if farmers could document and prove sustainable agriculture, they could gain market opportunities.
To create real solutions around the sustainability of agriculture, Doring says, stakeholders need to talk to each other more. "We are feeding plants, animals and humans; think of the synergy we could have by bringing everyone around the same table," he says.
United States: High Cost of Production
With corn and soybean prices lower, Danny Murphy, Canton, Miss., farmer and American Soybean Association chairman, says the high cost of producing grain is the biggest challenge for American farmers. "Prices have come down in the last 6 to 8 months, but production costs are still stable or higher," he says. "It is going to be very challenging for growers over the next few years."
Murphy says regulations, especially about the waters of the United States, consumer acceptance of modern farming practices and transportation hang-ups with grain movement via railroads also challenge U.S. farmers.
The three were part of a panel discussion at the 2014 Corn and Soybean Future Forum, hosted by Bayer CropScience, and taking place in Frankfurt, Germany this week.