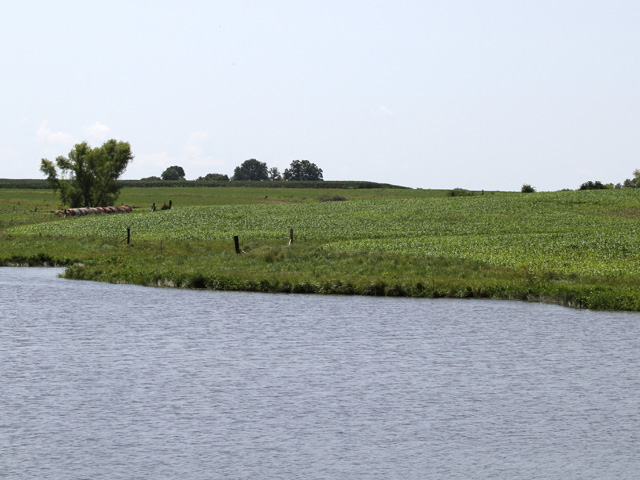 Over the summer, producers experienced policy whiplash as several key agricultural issues took center stage in Washington, D.C.
During his campaign, President Donald Trump promised several policy changes that would benefit agriculture. Now, some farmers are concerned his administration won't follow through with repealing the Waters of the United States rule, reforming taxes or improving crop-insurance protections. They also fear the administration could hurt ag by pulling out of the North American Free Trade Agreement (NAFTA).
With so much on the table, here are the top policy issues you should keep an eye on this fall. 
1. NAFTA Modernization
"I think the big thing going on right now is trade, specifically NAFTA," says John Dillard of OFW Law, based in Washington, D.C.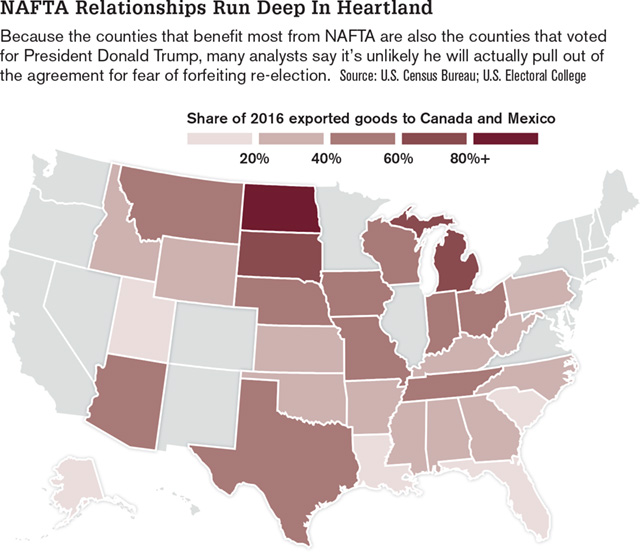 Canada, Mexico and the U.S. are set to hold seven rounds of meetings to modernize NAFTA. During the first round of negotiations, Canada and Mexico started at home plate ready to bat while the Trump administration began on third base, says Jim Wiesemeyer, Pro Farmer's Washington policy analyst. Canada and Mexico seek small changes, but U.S. Trade Representative Bob Lighthizer wants the opposite.
"The views of [Trump on NAFTA], which I completely share, are well-known," Lighthizer says. "I want to be clear: He is not interested in a mere tweaking of a few provisions … and a couple of updated chapters. We feel that NAFTA has fundamentally failed many, many Americans and
needs major improvement."
The elephant in the room during the second round of discussions in Mexico City: Trump's threat to pull out of NAFTA. The president pledged to withdraw from the agreement before his election, then focused on renegotiating the deal, next offered a message about modernization and finally returned to his recent comments about withdrawal.
"I think that's a very dangerous comment to make," says Darci Vetter, former ag negotiator for the U.S. trade representative. "It casts a shadow on the negotiations."
Some analysts think threatening to withdraw is a good negotiation tactic that gives the U.S. power over the discussion. Vetter thinks otherwise.
"We heard from the Mexican delegation [that] it's hard to prepare if you're trying to be productive at the table but your partner might walk away halfway through,"
she points out.
Mexican trade leadership has made it clear that if the U.S. starts the withdrawal process, they will walk away from the table. "They will not negotiate with a gun to their head," she says. "I think those threats of withdrawal are not productive."
The manufacturing trade deficit is the president's top issue, according to Dillard. "The thing that gets lost by politicians on both sides [of the aisle] is the fact that manufacturing jobs have been trending down since the 1970s, before NAFTA," he explains. "We are still the world's leader in manufacturing, we just have fewer people doing it."
Agriculture leaders from all three NAFTA countries are encouraging negotiators to "do no harm," says Zippy Duvall, president of the American Farm Bureau Federation.
"This has been a good trade treaty for North American agriculture, and we want to make sure we have our voices heard," Duvall says.
To avoid harm, observers say, negotiators must do more than simply leave agriculture tariffs alone.
"It's making sure that the other elements you negotiate don't create such an imbalance that you provide an incentive for Canada and Mexico to retaliate against the agricultural products we ship," Vetter says.
Neighbors could implement anti-dumping duties at the border, if they feel disadvantaged by the deal.
One bright spot for farmers in the renegotiation of NAFTA is a proposed amendment to change technology approval from individual countries to a North American approval system, Dillard says.
Under the amendment, the U.S., Canada, and Mexico would establish a body to evaluate and approve biotech traits, potentially removing some barriers to approval.
2. Tax Reform
One tax provision producers should monitor is the business interest exemption, which allows farmers to write off the interest paid on business loans as an expense. During negotiations on tax reform, it's possible this exemption could be eliminated, Dillard says.
"I'm not sure that will pass because it would affect so many farmers,
but it's worth paying attention to," he points out.
Although it's unclear exactly when the administration will get tax reform done, Wiesemeyer says, it appears to have a pretty aggressive timeline for completion.
"If they can get that done in the first few months of 2018, the market will have to build back in what they previously factored in right after the Trump administration win," he says.
3. 2018 Farm Bill and Crop Insurance
The farm bill is set to expire in 2018. As Congress goes to work on a new version, risk-management provisions for producers will be the front-running topic of discussion among federal lawmakers.
"There is going to be a strong argument for a robust safety net," Dillard explains, "but not all members of Congress necessarily value increasing the investment in the
farm safety net."
The inclusion of disaster assistance shouldn't be a problem after the vast devastation of cotton crops in Texas following Hurricane Harvey, he says.
It's unclear what exactly will happen with crop insurance, Dillard says, but it's unlikely there will be a return to direct payments.
Removal of the Supplemental Nutrition Assistance Program, also known as SNAP, from the farm bill also is doubtful because it could inhibit the bill from passing and becoming the law of the land. "There are hungry people in every district of the U.S.," he says.
Inside The Redefinition Of WOTUS
The Waters of the United States (WOTUS) rule remains a hot topic in agriculture, years after it first grabbed producers' attention. Earlier this year, President Donald Trump issued an executive order to take a closer look at the Clean Water Act and revise it in a way that limits regulation.
As a result, the Environmental Protection Agency under the leadership of administrator Scott Pruitt is taking another look at the definition of WOTUS.
"The Clean Water Act has existed since 1972 without a definition of WOTUS," says John Dillard an attorney at OFW Law in Washington, D.C. "We have relied on different court decisions to set up the boundaries."
In 2006, a court ruling left the Supreme Court deadlocked on the definition of WOTUS. The Obama administration championed the definition decision, which gave the U.S. Army Corps of Engineers more authority over waterways. Dillard thinks Pruitt will follow the opinion of the late Antonin Scalia in that case, meaning some of that authority will be peeled back.
"It will probably be several years before we actually get a definition," he says. "I think people in agriculture will be happier with the result of whatever Pruitt puts out than what was put out in the Obama administration. It's not going to be a license to go out and plow up wetlands everywhere. There's still going to be regulations on that."