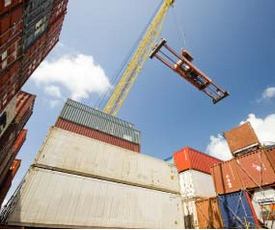 East and Gulf Coast ports could become a viable alternative for U.S. dairy exports.
By Mark O'Keefe, U.S. Dairy Export Council
West Coast ports are up and running again after the International Longshore and Warehouse Union and the Pacific Maritime Association, which represents employers, agreed on Friday [Feb. 20] to end a nine-month conflict with a five-year labor contract.
The protracted labor dispute illustrated one of the historic risks of dealing with West Coast ports. Unfortunately, the future is far from secure. As Forbes pointed out in a blunt headline, "It's Only A Matter of Time Before West Coast Port Labor Issues Recur." 
What does that mean for U.S. dairy exporters looking to minimize risk in the management of their logistics and supply chain?
"It means the West is not always the best," says USDEC's Ross Christieson, editor of an in-depth USDEC research report, "Export Supply Chain and Logistics Management," available upon request here. "East and Gulf coast ports should also be considered."
Currently, large proportions of U.S. dairy exports go through West Coast ports. For example:
SMP (93%)
Whey (81%)
Butter (72%)
Cheese (53%)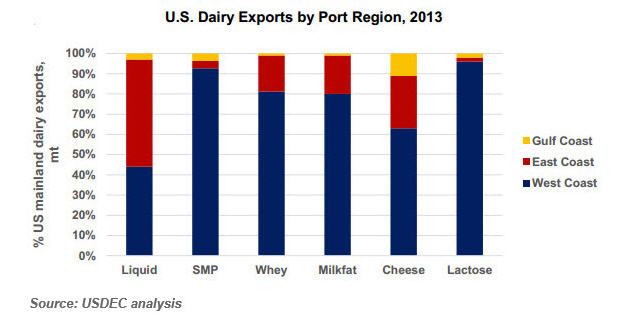 "Part of this is our strength in the Asian markets, and part is the more recent emergence of California and other western states as dairy producers and exporters," says Christieson, who manages USDEC's global market research as its senior vice president, market research & analysis.
But Christieson sees at least three reasons East and Gulf Coast ports could become a viable alternative for U.S. dairy exports:
Less labor volatility. The USDEC research report points out that while East Coast ports are more expensive, the labor contracts are generally less contentious than on the West Coast. The last serious strike on the East Coast was an ILA walk out in 1977 against container carriers. A strike was averted in December 2012 (over the issue of Container Royalty Payments), which could have impacted 14 East Coast ports. Thus, this higher labor cost structure remains. This year's West Coast labor disputes were nothing new. For instance, in 2002 an 11-day lockout involved the closure 29 West Coast ports, costing the economy an estimated $1 billion per day.
Increasing viability of the Panama Canal. The East Coast ports generally have low capacities compared to those on the West Coast but hard work has been underway to dredge. A turning point was provided by the strikes which hit the Los Angeles port in 2004-2005. This led trade away from L.A. and across the country on intermodal, towards the all-water route down the West Coast and through the Panama Canal up to the East Coast.
Improving rail access to East Coast ports. Rail access to the East Coast has always been problematic, but the rail companies servicing this region see the changes to the Panama Canal as an opportunity to expand their market into the Midwest and have been investing in systems to enable this. A good example has been the major spending on the Heartland Corridor between Norfolk, Va., and Chicago, which has involved extensive re-drilling and facilitation for double stack freight. 
As this post, "West Coast Labor Dispute a Bad Deal for U.S. Dairy Exporters," indicated last week, West Coast ports have an obvious geographic edge in shipping to Asia. That will be difficult for other ports to overcome.
"For the short term, expect West Coast ports to continue to be the preferred option of most U.S. dairy exporters. But competition from East and Gulf Coast ports helps everyone," says Christieson. "If anything, perhaps the players in the next West Coast labor negotiations will be more reasonable next time around, knowing shippers have other options through increased competition amongst the nation's ports."
The U.S. Dairy Export Council represents dairy farmers, proprietary processors, cooperatives, ingredient suppliers and export traders. Its mission is to enhance U.S. competitiveness and increase global sales of U.S. dairy ingredients and products.