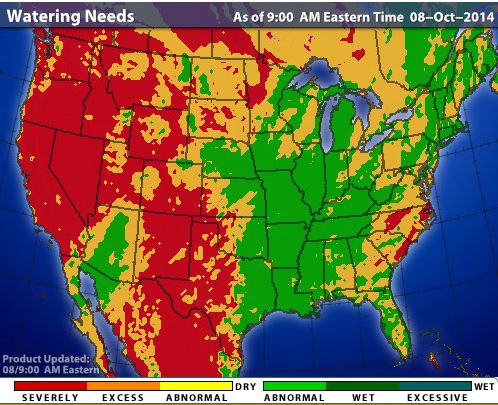 One goal of AgWeb's recent redesign was to give readers a cleaner, easier-to-navigate experience on the website. But that doesn't mean sacrificing great content – and a great example of this is AgWeb's new weather section. Here are three reasons we hope you'll love it.
1. Award-winning weather coverage. Mother Nature throws a lot of curveballs, and AgWeb has been there every step of the way, from the 2012 drought, the late start and soggy finish to the 2013 season, and the prime weather that has fueled a bin-busting 2014 crop year. Catch up with AgDay's National Forecast each day, and learn about how longer-term climate trends are shaping agriculture.
2. Interactivity. National forecasts are important, but local forecasts matter more. Enter your ZIP code to access current conditions (including temperature, humidity and more), plus a 10-day forecast tailored to your town.
3. Maps. Here's where AgWeb's weather content has made the biggest leap forward. Farmers now have a one-shop stop for any number of weather maps. Start with a classic radar map. Check out precipitation maps, including observed rainfall, seasonal rainfall, cumulative rainfall and long-range outlook.
Then, dive into temperature maps to discover daily temperature ranges, today's highs and lows, and a long-range outlook. New soil maps presents information such as soil temperatures, soil moisture, crop moisture and watering needs. Users can even tap into maps that display growing conditions, including frost/freeze outlooks, growing degree days, and sunshine and wind forecasts.
Go to www.agweb.com/weather/ to see it all.