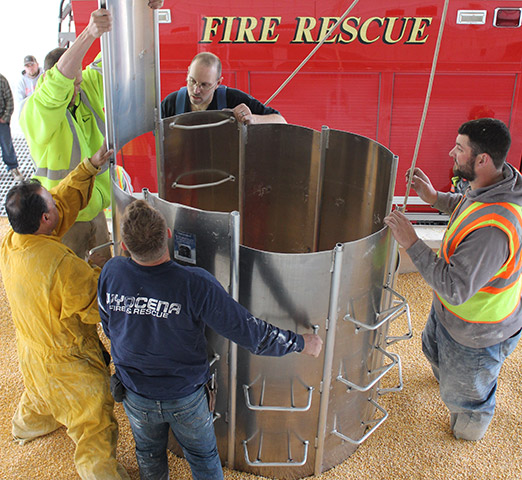 Accidents happen. But it's important to take every precaution against grain engulfments, which can quickly turn deadly.
That was front-of-mind for Matt Solymossy, safety manager for Landmark Services Cooperative, as he was recently involved with first responder training with area firefighters in southern Wisconsin. The firefighters learned techniques to safely rescue grain entrapment victims.
"Training like this is important because we're seeing larger and larger grain storage every year, and it seems that not only is there an increase in the number of incidences, but also the severity of incidences with grain bin entrapment," he says.
In the training, the firefighters gained experience using a cofferdam, a piece of equipment that has multiple metal pieces that slide and lock into place, which allows emergency personnel to safely extract a victim. Besides gaining familiarity with rescue equipment, training gave the firefighters a chance to work with colleagues in a practice environment, says participant Mark Kenevan, assistant fire chief for the Columbus (Wisc.) fire department.
"Practice is important because it makes you better in the field if you do face this type of situation down the road, which we hope we never do," Kenevan says. "If we have a rescue situation like this, we'll probably have a couple fire departments work together. So it's great to have the people working together under practice conditions."
Practice makes perfect, but prevention is preferred, Solymossy says. He recommends the following three safety tips for farmers:
Never go into the grain bin alone. Always have another person positioned outside so they can help or call emergency services if needed.
Never walk on stored grain. When you walk on stored grain that is more than waist deep, there's a chance of collapse, Solymossy warns.
Lock out, tag out. "Make sure that augers and other equipment that move grain inside the bins are de-energized before you enter a grain bin," Solymossy says.
According to data recently released by Purdue University researchers, there were 70 total cases of "agricultural confined-space" injuries and deaths in 2014, a 4% increase from 2013.