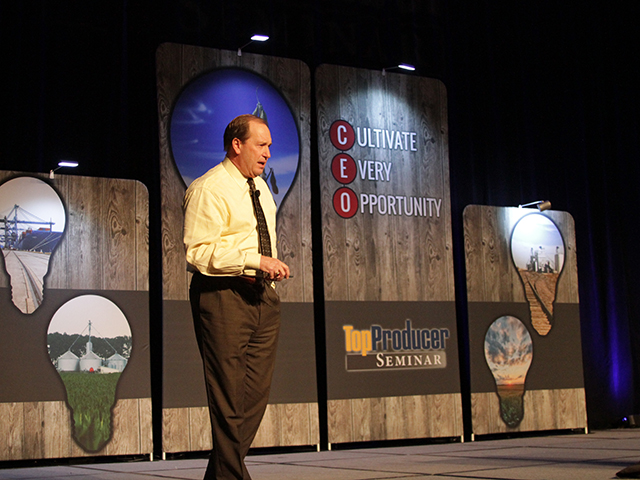 It's hard to have a conversation about today's tight farm economy without hearing a reference to the 1980s. But many ag banking experts agree today's farmers should not expect a repeat.
As I turned the calendar to 2017 earlier this year, all the talk about the farm economy drifting into a repeat of the 1980s gave me pause.
"When I chose agricultural banking as a career in 1979, commodity prices were good, land values were high, interest rates were relatively modest and farm debt was exploding," says Curt Covington, senior vice president of agricultural finance with Farmer Mac. "It did not occur to me, at the time, how the lethal combination of unexpected higher interest rates and excessive farm debt would eventually impact both farmers and their bankers in just a few short years."
Forty years later, Covington says, he's forgotten most of the daily grind of lending in that environment. But he remembers these three lessons and says today's farmers should abide by them.
LESSON #1: Leverage kills
"High commodity prices, strong land values and low interest rates cover a multitude of sins," he says. "Every farmer appears bankable in that environment. It was true in the early 1980s, and it was true just a few short years ago. Debt payments are fixed costs that don't care where commodity prices are. Debt piled up in the good times still gets paid in the bad times."
LESSON #2: Time does not fix the problem, action fixes the problem
Last winter, Covington says, he heard a young farmer say, "I'm farming next year, but I'm not sure that my banker is."
"That's troublesome thinking," he says. "Ag lenders sometimes think, 'If you've got dirt, you can't get hurt.' That is misplaced optimism and, oh by the way, yes you can."
LESSON #3: Taxes are a form of debt, and deferring them has consequences
"Deferring crop revenue is a tax gift that keeps on giving—that is, until the income train comes to an abrupt halt," he says. "Unfortunately, the tax man wants his money when the farmer doesn't have it. The problem gets compounded with capital gains tax when the farmer attempts to right-size his or her balance sheet by selling long-held land assets."
What lies ahead for the farm economy? Nobody knows. But, Covington says, it is fair to say that there are many differences between the 1980s and now.
"That said, vigilant adherence to sensible and conservative lending practices is always a prudent rule of thumb," he says. "Or, to put it another way, if it doesn't feel right, don't do it."
Covington will speak at the 2017 Tomorrow's Top Producer conference, which will be held in Nashville from July 20-21. His session is titled: "Don't Buy if You Can Lease. Don't Lease if You Can Rent. Don't Rent if You Can Steal It." Young farmers can save $100 on their registration fee by signing up by June 9. Learn more and register today!
Read more insights from Farmer Mac in the latest edition of The Feed, a quarterly perspective on agriculture.