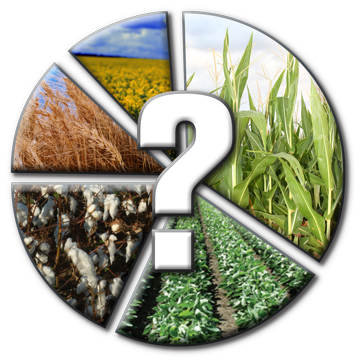 What's ahead for the grain, livestock and land markets? How will weather affect production this year? Four ag market experts from the University of Missouri analyzed the cattle, hogs, corn, soybeans, wheat and dairy markets in an Ag Marketing Outlook Conference on April 30.
Here are the highlights.
Weather
A slow spring warm-up can be blamed for a slight delay in corn plantings, as well as cattle and dairy operations' continued use of corn in feed.
As of April 30, soil temperatures in the Corn Belt were still in the 40°s for much of Iowa, and breaking into the 50°s and 60°s at the Missouri state line.
Drought has not left the country. The April 22 U.S. Drought Monitor shows D4 Exceptional drought conditions in California, Nevada, New Mexico and Texas Panhandle. D3 Extreme drought extends through Texas, New Mexico, Oklahoma, Kansas, Wyoming and Nebraska, as well as covering California and Nevada. Moderate and abnormal drought extends from Minneapolis, South Dakota and Iowa, stretching south all the way into the Southwest.
Drought conditions in these areas are expected to continue through summer.
Climatologists are undecided about summer temperatures.

Corn
In the past 63 years, there have been 20 El Nino years and 21 La Nina years. Either way, forecasters say results based on type of year are inconsistent. It depends on factors in each year. (Nine of 20 El Nino years were "good" for corn yields, three were "bad" and eight were "normal". Eight of 21 La Nina years were "bad" for corn yields, one was "good" and 13 were "normal".)
Planting progress: USDA reports 19% planted as of April 27, which is below the 28% five-year average.
Feed use so far in 2014 is steady to slightly higher, canceling out hopes of rebuilding stocks without a marginal crop year.
Price projections, with acres down 3.7 million, means a $4 to $5 average, according to David Reinbott, University of Missouri agriculture business specialist.
2013/14 exports are expected to exceed the past two marketing years.
China's corn production has been on a steady increase for past decade, and its domestic consumption is right on par with their production.
Cattle
Beef replacement heifers are up 1.7% compared to year ago; all other classes (beef and dairy cows, steers 500-lb and up, and calves under 500-lb.) are all down versus a year ago.
Through mid-April, cattle slaughter was down 4.8%, a trend that will continue for the rest of the year due to low supplies and retention of heifers.
10% to 11% of U.S. beef is being exported, a good sign considering the high U.S. price of beef.
For the rest of 2014, futures prices will stay around $140s per cwt., and not break the $150-cwt. record from last year.
Cow-calf profit margins will remain in the $350 per cow.

Soybeans
World ending stocks are high, and expected to remain high throughout 2014.
China's domestic use continues higher.
U.S. to add 2 to 4 million acres this year.
 
Hogs
The first case of PEDv in the U.S. came in April 2013; found on 6,019 hog farms by April 13, 2014.
Spread of the disease accelerated in the winter, causing a huge fall in pigs per litter (PPL)—down 5.5% in December-February time period. This was the largest drop in PPL ever.
Slaughter pigs are coming to the plant heavier—weights averaging 279 lb.—due to open space in finishing barns.
Expect hog prices to stay high—upper $80s cwt. to low $90s by end of the year.
Profit margins are at record levels for the first half of 2014, lessening as we end the year.

Wheat
Freezing temperatures and drought in the Plains has pressured wheat growers.
Large portion of Kansas and Oklahoma wheat crop in poor or very poor condition from drought.
There will not be a big jump in domestic ending stocks.
 

Dairy
Domestic demand is weakening from sticker shock of dairy products.
Producers will likely see best margins this year, but will be constrained by low cow numbers, and slower milk production per cow.
Drought-stricken California is home to one out of five dairy cows in the U.S.
Land
Pasture rents are slowly creeping higher, due to extended drought and need for early season forage.
Cropland rents are steady, as interest rates are forecasted to remain low and crop prices moderate.
Alfalfa acreage has not responded to the crop's increase in price and demand.
 
See all Powerpoint Presentations from the April 30, 2014 University of Missouri Ag Marketing Outlook Conference (no audio).
---